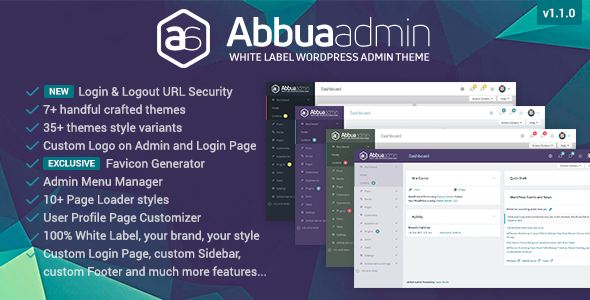 ABBUA Admin it's an advanced and carefully crafted white label WordPress admin theme. With ABBUA Admin you can change logos, choose one from tons of color themes, customize everything on the login page and many more features that lets you bring your WordPress admin area to the next level.
Along with White Label Branding features, ABBUA Admin comes with more than 30 awesome inbuilt themes, plus more themes will be added regularly.
What you get with ABBUA Admin for WordPress?
Plugin Features
White Label Branding
Custom Login Screen, choose different look and feel to fit your needs
Custom Logos, favicon and device icons. Show your own brand in all the admin and login area
Custom Admin Top Bar
Custom Admin Menu
Custom Footer
Login Security
Boost your WordPress security changing the login and logout URLs.
Custom Login URL
Custom "logged-in" redirection based on user role
Custom Logout URL
Custom "logged-out" redirection based on user role
Custom Login Screen
Change background image, choose from 10 predefined images or use your own
Change login box style: boxed, full-height, colorized or the exclusive Frozen-Glass style
Change page title
Change logo image, logo url or logo title
Add a custom message to the login page
Add a custom logout message
Customize "Remember me", "Back to site" and "Lost your password?" text
Show/hide "Back to site" link
Show/hide "Lost your password?" link
Customize Login Button style colors and text
Remove "login error shake" effect
Customize login error messages
Custom Logo
Add your own brand logo to the admin area
Add your own brand logo to the login screen
Two types of logo: image logo or an icon and text logo
Different logo for collapsed and expanded admin sidebar
Favicon generator included! Create a favicon and logos for Apple and Android devices with a few clicks. Choose an image and your done!
Admin Top Bar
Show/hide navbar links
Show/hide navbar user actions menu
Set navbar positioning
Admin Menu Sidebar
Completely manage admin menu items

Rename menu and submenu items
Drag&drop to reorder menu and submenu items
Custom menu icons
Disable menu and submenu items

Enable collapse/expand menu items as accordion
Enable custom scrollbar
Set admin menu positioning
Set admin menu logo brand positioning
Custom Footer
Show/hide/customize footer text
Customize footer text
Show/hide footer version
Customize footer version
Custom Themes and colors
7+ Themes
35+ predefined theme style variants, plus you can change colors

Light navbar, dark navbar
Light admin menu, dark admin menu
Light admin menu brand, dark admin menu brand

Customize everything in the administration area with a full panel of available options
And we keep creating new themes, that will be available on our website. Just download and enjoy!
Page Loader
10+ page loader themes
Customize the loader colors
Custom User Profile Page
Disable user profile page settings sections:
Hide Visual editor
Hide Syntaxis Highlighting
Hide Admin colors schemes
Hide Keyboard shortcuts
Hide Admin Bar
Hide Language selector
Custom CSS
Add custom CSS code if you need to create your own rules, or if you want to overwrite some rule.
Change Log – new version 1.1.0 is available for download
[Version 1.1.0] – 2018-07-13
### Added
- Login Security Module
- Multilang i18n Support. English and Spanish in-built .po .mo files
- Settings for hide/show the "logged out" message
- New Theme: Smoky

### Fixed
- Admin Menu Manager functionality to hide/show and reorder admin menu items.
- ABBUA Theme, updated default colors when re-activating the plugin.
- Login screen default messages like logged out or login error, now display correctly.
- "Error-shake" effect and "frozen-glass" style compatibility issues.
- jQuery conflict with some third-party plugins ("Flexible Checkout Fields" Plugin)
- Responsive issues with some web browsers
[Version 1.0.0] – 2018-06-18
- Initial Release