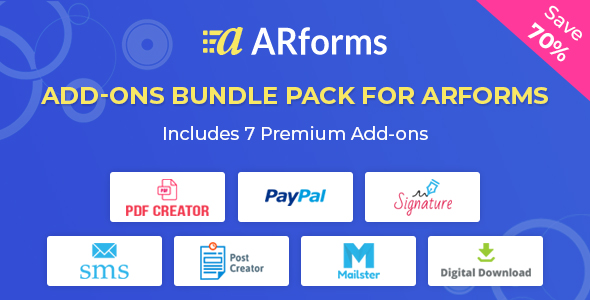 This add-on bundle is meant for ARForms – WordPress Form Builder plugin. This is not a standalone plugin. Get ARForms plugin first and then buy this add-on bundle at highly discounted price.
Instead of spending money on individual add-ons, purchase this pack and get 70% discount benefit. Currently 7 add-ons are included in this package. Once one or more add-ons are added, this package will be updated and you will get them for FREE.
Add-ons Bundle Pack For ARForms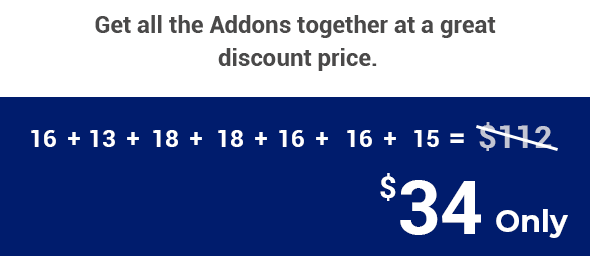 1. Paypal

Start accepting paypal payments on your wordpress site in 5 minutes! Seamless integration with ARForms plugin. You can create forms with ARForms plugin, configure it with PayPal and you are done. Users will be redirected to PayPal quickly after form submission. It will be full integration. Once payment is done, it will update status too in form entries.
2. Pdf creator

PDF Creator for ARForms plugin integrates your form entries and PDF creation in a single process. You can send generated PDF as an attachment with email to administrator immediately after form submission from ARForms.
3. Signature Addon

Collecting user's signature from your customer is too easy now with Signature Add-On of ARForms. This addon allows you to integrate signature into your forms without the end user having to install any special browser plugins.
4. Post Creator

Allow users to create their own public posts and pages without ever seeing the Dashboard! This addon integrates your form entries and wordpress pages/posts in a single process. You can create a pages/post automatically after form submission from ARForms.
5. Sms with ARForms

Send a SMS when someone submits your form via popular SMS gateways like Twilio, Clickatell, SMSGlobal and Nexmo. Using this Add-on, you can send customizable text message as a part from notification to user as well as administrator.
6. Mailster for ARForms

Mailster Integration with ARForms Plugin allows you to quickly create subscribers for your mailster mailling lists using the power & flexibility of ARForms.
7. Digital Download

Digital Download with ARForms plugin allows you to quickly download Digital Products after form submission of ARForms. User can securely download digital products after successfull payment with payment addons of arforms.