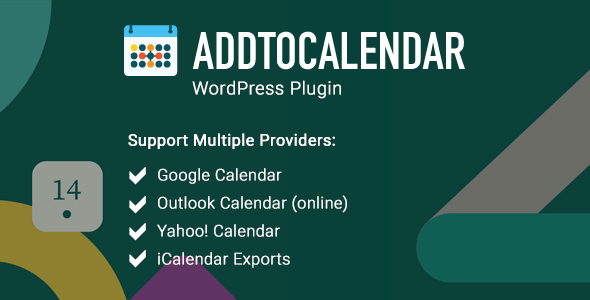 Add to Calendar WordPress Event Plugin
AddtoCalendar is now available as a WordPress plugin. This plugin provides a simple and flexible
way for your users to add your events to their calendars. It has designed for event/seminar organizer to add an
Add to Calendar button to their WordPress website. Right choice for Event Professionals, Developers
& Agencies, Small Businesses, Community Organizations and other purpose.
Plugin Features:
Simple Configuration:
This plugin hasn't bundled with unecessary options which are rarely used. The plugin has designed with the
user's key goals in mind, and designed for simplicity. So, you can easily configure each options of this plugin
any way you want it.

Multiple Providers:
The plugin has covered most of the calendar client out there. Target more participants, increase satisfaction
and offer more flexibility with choice for participants. Supported providers are Google Calendar, Outlook
online, Yahoo!,
iCalendar, and other sites.

Shortcode Generator:
Plugin comes with a handy shortcode generator tools which let you generate shortcode for Add-to-calendar in a
matter of time.

Easy to Customize:
Easy to customize looks and feels. Adjust UI button colour, font and icons of your choice by just editing
public facing css file or managing from your child theme style.

Translation Template:
Translate our plugin in multiple languages, within minutes. Create a localized experience for every visitor in
any language. Simple set-up, we provided .pot template file.

Clean, Modern and Mobile Friendly:
Responsive button and it's option work properly in all most any device and screen that you can imagine.

Documentation and Support:
Well documented and commented files. You don't need enough technical knowledge to setup and configure this
plugin. An Easy-to-Use guide with clear instruction may help you integrating this plugin step-by step, beside a
top notch customer service team always responsive and available to assist you with any issues.
Please don't ask pre-sale questions in comment section
You may not get an answer if you have asked presale questions in the comments section. Instead, please use the dedicated contact form on our profile page.
CHANGELOG:

= Version 1.0.2 - Sep 06, 2021 =
Enqueue plugin scripts in footer
= Version 1.0.1 – Feb 08, 2021 =
Added: Timezone option in iCalendar file.
= Version 1.0.0 – Oct 26, 2020 =
Fixed: iPhone ical file issue. New mine type for all device