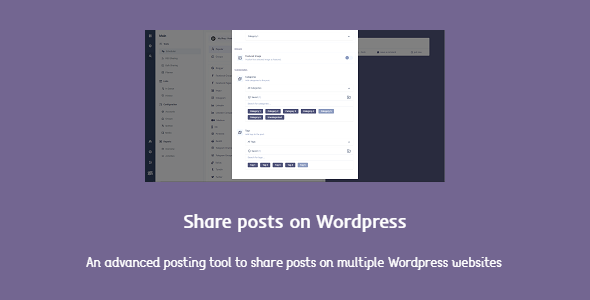 CRM Social is an app for scheduling, planning and publishing media content on the most popular social networks. 
The CRM Social app is sharing posts in a list with available networks. A network(in the
CRM Social app) is a platform where is possible to share posts.
Demo Url: https://salestwirl.com/
Demo Video: https://youtu.be/XpmR_wJJM8Y
WordPress Pro is a non included network by default in the CRM Social app. You could buy it separately and install in the
CRM Social app.
With the WordPress Pro network users could connect their websites created in the WordPress CMS and share there new posts. 
The main advantages why you might choose this network:
It allows to publish one post in an unlimited number of websites.

It has support for RSS Feeds and the RSS Feeds posts could be shared automatically on the connected WordPress websites.

It has support for Spintax and the posts could be made original in each website where them were published.

It allows to select by default the categories and tags where will be saved the published posts for each website.

It allows even to share multiple images and publish featured images.

In the Bulk Sharing tool is possible to import from a CSV a list with posts and them will be published automatically in the selected WordPress websites.
The WordPress Pro network is using the XML-RPC WordPress API and the connection of the websites is easy. Each user should use an administrator username and password to connect the WordPress websites.
Requirements:
php_xmlrpc.dll
Documentation:
Configuration – https://www.midrub.com/categories/wordpress-pro-2 
Usage – https://www.midrub.com/categories/wordpress-pro