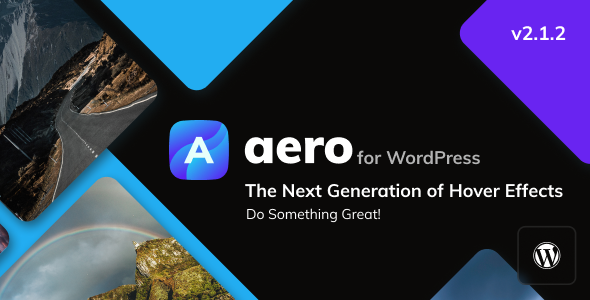 What is Aero for WordPress?
Images alone are a very powerful way to communicate information. Animations are a very strong tool when telling a story. However, a combination of both is nothing more than a powerful way to show emotion. Aero for WordPress is a well-crafted collection of image hover effects, so that when you build your web app or website you can touch people's hearts. It is available as a WordPress plugin and it is fully compatible with the Gutenberg editor.
Aero Card and Aero Grid are the two Gutenberg blocks that allow you to create fully live configurable image cards and image grids. So, have fun and create something awesome!
Here are some short live demos for the Aero Card and Aero Grid blocks:
Editor Demo 1
Editor Demo 2
Editor Demo 3
Aero's Features
Modern technologies are very easy to use and they can help you very much when building a web app or a website and maintaining it. This is why Aero for WordPress is built on top of Aero, a collection of image hover effects that targets developers. It is good to know that Aero will lazy-load itself, so only the necessary code is used.
Wide Browser Support
Compatibility with all modern browsers is fundamental for any web project. That's why, right out of the box, Aero is compatible with all modern browsers. Also, through polyfills, there is support for older browsers too.
Image Grid Out Of The Box
Creating image grids is something very important for many projects. This is especially true when it's necessary to create a portfolio. That's why Aero comes with a powerful customizable image grid component out of the box. There are even global controls for all the image cards inside it.
Optimized for Search Engines (SEO)
Aero's generated code meets the best SEO practices. Thus, the search engines can index all images without any extra effort.
Well Crafted Documentation
Creating very easy-to-use documentation is not simple. A lot of effort was necessary to craft Aero's documentation. It is possible to open it into the browser or to build it as a static website. Also, it is available as Markdown files.
What's New
v2.1.2 (May 18, 2022)
Fix AeroGrid for WordPress 5.7
Dependencies update
v2.1.1 (May 17, 2022)
v2.1.0 (Sep 10, 2021)
Major refactoring
Improved documentation
Dependencies update
v2.0.3 (May 14, 2021)
Minor bug fixes
Dependencies update
v2.0.2 (May 12, 2021)
v2.0.1 (Mar 9, 2021)
v2.0.0 (Jan 01, 2021)
New branding
New demo page
New documentation
New architecture
New mouse direction awareness
New image grid Gutenberg block
New image card Gutenberg block
Support for all modern browsers
Support for full configuration
Support for responsive layout
Support for WordPress Gutenberg editor
Support for custom background color
Support for custom image alt attribute
Support for effect block controls
Support for media replace block controls
Support for custom alignment block controls
Support for border-radius inspector controls
Support for grid gap inspector controls
Support for grid max card size inspector controls
Support for grid global border-radius inspector controls
Support for grid global effect block controls
Support for inner core/heading block
Support for inner core/paragraph block
Support for inner core/button block
Support for inner core/social-links block
18 curated and refreshed image hover effects
Significant performance improvements
Dropped support for IE (this is a feature)
v1.3.0 (Oct 08, 2015)
New UI
New Circle Option
New Image Placeholder
New Alignaments
New Image Class
Fix WP Shortcode Inject
Fix WP Class Conflict
Fix Image Align
v1.2.0 (Jul 30, 2016)
Include Aero v1.5 – Hover Effects
Include 5+ New Effects
Include 1+ Bonus New Effect
New Demo Page
Image Preview
Image Custom Width
Title Custom Font Size
Title Custom Text Color
Content Custom Font Size
Content Custom Text Color
Sass Files Improvement
Sass Color Control Variables
Sass Animations Control Variables
Sass Transitions Control Variables
Sass Modularization
Code Cleaning
Code Commenting Improvement
File Size Reduced from 56kb to 39kb (Injected Aero CSS)
File SVG Compatibile for .img-box Class Object
HTML Structure Improvement
HTML/CSS Global Class Added
Minor Bugs Fixes
v1.1.0 (Oct 21, 2015)
Include Aero 1.4 – Hover Effects
16 Hover Effects
Consistent Optimization
Code Cleaning
"Make Link" Button added
"Open link in new page" Button added
"Round Image" Button added
v1.0.0 – Initial Release (Sept 22, 2015)
CSS3 Hover Effects Pro | 12 Effects
Fully Responsive
WordPress Compatibility