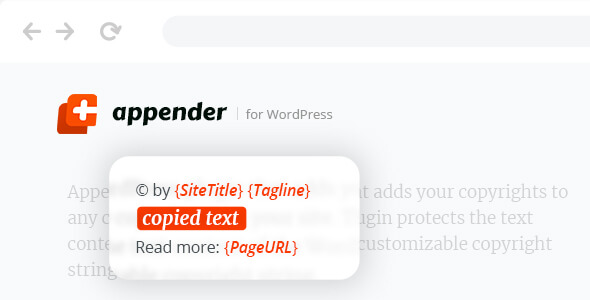 Appender is a WordPress plugin that adds your copyrights to any copied text on your site. The plugin protects the text content of the WordPress site with customizable copyright string.
You can flexibly customize the line that will be added to the copied text by adding: site name, site tagline, site address, page name, page URL, date and time of copying.
We keep an eye on the WordPress core updates and regularly update our plugins. So you can be sure that the plugin is fully functional with the latest version of WordPress.
Features of the Appender WordPress plugin
Copyright strings before and after the copied text
Appended website data: Site Title, Tagline, Website Address, Page Title, Page URL, Date and Time
Works well with all WordPress themes
Gutenberg compliant
Included pot file for quick translation on any language
Perfect for RTL direction
Fast and smooth installing
Tested and compatible up to WordPress 5++
Lightweight and Fast
Vanilla JavaScript, without jQuery
All major browsers supported Chrome, Firefox, Safari, Opera, and Edge
100% SEO friendly
Easy to use and customize
Modern User Interface
Assignments for any WordPress entity: Categories, Single Page, User roles, Devices and more
Installation Guide and Detailed Users Manual
Six months Included Support for CodeCanyon buyers
The Appender WordPress plugin is exceptionally compatible with all modern browsers. It does not matter which browser users view your site: Chrome, Firefox, Opera, Safari, or Edge. Everything will look great on all devices and in all browsers. And this is especially important if your website has much unique content, such as a Blog, Glossary, Portfolio, Corporate Website, eCommerce Project, Creative Agency, Real Estate Listing, Personal CV, a Restaurant, Retail Company, Global Media Agency or Magazine.
Installation smooth and takes only a few seconds. Also, you do not need to make long preparations; all you have to do is add links to your social networks. The plugin is ready to work immediately after installation – you only need to install and activate it in WordPress. Read more Setting Copycat Protection for a WordPress Website.
Changelog

1.1.0 – 23 February 2022
Fixed notices for JavaScript Required setting
Improved plugin performance in the admin area


1.0.3 – 21 July 2020
Fixed UI issue on Uninstall Tab


1.0.2 – 18 July 2020
Fixed plugin update and activation issues.


1.0.1 – 23 December 2019
Added setting of the line length of copied text
Fixed issue with the plugin icon color


1.0.0 – 11 December 2019
Initial release