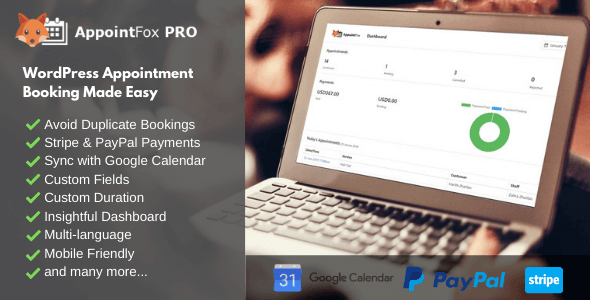 ===============================================================
View the installation guide here: https://www.youtube.com/watch?v=G3yVTUYzdkI
===============================================================
AppointFox PRO is a complete WordPress Appointment Booking Plugin for your business. It's soo easy to set up, and within minutes, you will be able to manage your customer appointment booking 100% automated.
It comes with an easy to use booking form, seamless Google integration, online payment and mobile friendly. AppointFox PRO brings a new scheduling and hassle-free experience for your customers.
AppointFox PRO is so much more than your ordinary online scheduling software and reservation system. It's fully customizable and perfect for various types of business like Salon booking, Clinic booking, Consultants booking, Gym & sports booking and many more.
> Simple user navigation with interactive visualization.
> Process payments instantly and securely. Accept Pay Locally, PayPal and Stripe payments.
> Integrated Online Approval for your Appointment reservation.
> Fast and easy access through mobile devices and desktops.
> Control your availability 24/7 with Advanced availability calendar.
> Accept group bookings to manage your classroom, training or events appointments.
> Adjust your booking website to your brand and customize all messages for notifications and reminders.
> Sync the booking page with your Google Calendar.
> Display your appointments on Apple Calendar, Outlook, etc. with an iCal feed directly from your site.

> Request additional customer information by adding your custom fields
> Add your custom duration for service
> Filterable, sortable and searchable appointment list that you can print or export to CSV.
> Multi-language support – 12 languages included.
> Multiple services and service categories.
> Ask for user term & conditions acceptance before submiting an appointment.

> Six months of 24/7 online customer support.
> [NEW] Accept deposit payments
> And many more (see feature list).
Build amazing booking experiences for your WordPress website with AppointFox Today!
Customers Love AppointFox
FEATURES
Dashboard
Appointments management
Customers management
Services management

Ability to set maximum booking per time slot
Ability to block time slot if staff can only handle one service at a time
Ability to accept group bookings
Ability to set custom duration

Staffs management

Integrate with Google Calendar

Payments management
Availability calendar management
Settings

Customize labels
Enable offline & online payment (PayPal & Stripe)
Enable deposit payment
Customize email notification
Google calendar settings
Customize client's page
Custom fields

Customers

View appointment details
Make online payment
Auto appointment reminder
Add to my calendar (Google, Outlook and iCal)

Staff login
Quick Start
Click here to view the quick start guide
Documentation
Click here to view the documentation
Demo
Url: https://appointfox.com/demo/book-now/
Admin
Username: demo

Password: demo123
Staff
Username: staff

Password: staff123
Paypal payment test account:
Username: buyer@neptunescripts.com

Password: buyer123
Need Support?
Submit support ticket here: https://appointfox.com/submit-ticket/

or

Email us at support@appointfox.com
Updates

Version 3.1
- Fixed issue with WordPress 6.0.1
- Fixed select option not properly shown

Version 3.0
- Upgraded plugin compatibility with the latest WordPress vesion 5.6.1
- Added deposit payments
- Added service column in manage staffs page
- Fixed PayPal button loading time
- Fixed payment type

Version 2.7.5 to 2.7.11 
- Fixed settings page cannot displayed in WordPress 5.6
- Fixed css issues with Thrive theme builder
- Fixed datepicker error
- Fixed datepicker not properly translated as per WordPress language setting
- Fixed error at the booking page
- Fixed datepicker error when using zh-hk language
- Fixed PayPal problem in Live enviroment
- Added custom fields token in email notification

Version 2.7.4
- Added new settings: Pre blocked duration - Ability to block day betwen today and new booking

Version 2.7.3
- Made appointment's status translateable in booking details page
- Fixed PayPal payment run without validations

Version 2.7.2
- Updated language template with new words
- Replaced vue.mask.js from using CDN file to local file
- Made appointment's status translateable 

Version 2.7.1
- Fixed PayPal currency settings

Version 2.7
- Added ability for admin to update appointment with one click via status column in the table list
- Added customer details into Stripe payment records
- Added ability for customer to make payment at the booking details page
- Replaced outdated PayPal checkout button with new PayPal smart payment buttons
- Added new booking workflow
- Added email validation in the booking form
- Improved security: Remove stripe secret key from front end
- Made settings tabs selectable via url query parameter
- Added Booking ID in email notification template

Version 2.6
- Added ability to show service's calendar directly in a page
- Added setting to disable scrolling when selecting a service in the booking form
- Added ability to disable calendar feeds
- Made calendar feeds more secured using a secret key
- Fixed broken css style in Divi theme
- Fixed broken tabs in Divi theme
- Fixed bugs listing in manage appointments admin page
- Fixed Bad request error when connecting to Google calendar in the booking form
- Fixed wordpress front end error when calendar feeds is used
- Fixed admin cannot add an appointments
- Updated email and domain to appointfox.com

Version 2.5
- Added calendar feeds module
- Added Dutch language file
- Enhanced shortcode page with more options
- Fixed wrong times displayed for service with many staffs
- Fixed uncategorized services not shown up in the custom fields page

Version 2.4.1
- Updated booking form with better border's shadow
- Updated documenation with new plugin domain: appointfox.com
- Updated plugin's update URL with new plugin domain: appointfox.com

Version 2.4
- Added Stripe payment gateway
- Added user acceptance/agreement tickbox
- Fixed PayPal button not showing when "is show price" setting is ticked
- Updated language files

Version 2.3.11
- Added ability to add a custom fields
- Added ability to make customer's phone as mandatory field
- Added ability to redirect to a predefined URL after a booking made

Version 2.3.10
- Rewrite time slot calculation
- Added ability to set custom services' duration
- Replaced the German language
- Updated language template
- Fixed cannot save price in decimal Ex. 29.99

Version 2.3.9
- Added ability to sort services listing in manage service page
- Added staff availability checking from other services for staff who has no multi task assigned in the appointment booking form.
- Added time slot hide if not within the available working hours
- Fixed booking tabs not properly loaded in Theme Passage
- Fixed time slot interval setting not saved properly
- Fixed time dropdown label not set to default when creating another appointment

Version 2.3.8
- Added ability to book time when working hours is set between two days Ex: 8am-11.59pm and Next day 12.00am-2:00am.
- Fixed wrong time displayed when last working hours set end of the day (11:59pm).
- Fixed cannot click confirm datetime

Version 2.3.7
- Added price per capacity setting
- Added time slot interval setting
- Fixed disabled confirm datetime button when loading

Version 2.3.6
- Added payment options: Pay locally and PayPal
- Fixed button list style as per latest WP default theme
- Fixed DB not populated when first activated

Version 2.3.5
- Fixed wrong timezone format when connecting to Google Calendar
- Fixed sql error occured when reactivating the plugin

Version 2.3.4
- Fixed cannot save problem when time_format is set to 24 hours in translation mode

Version 2.3.3
- Added Danish language
- Fixed broken settings link in WP Plugin page

Version 2.3.2
- Added ability to display selected category and service in the booking form
- Added ability to block booked's start and end dates for days-based duration
- Added ability to block dates for other services with the same staff
- Added 30 days service's duration

Version 2.3.1
- Added number of persons field in manage appointments form
- Fixed wrong days duration display in manage appointment calendar
- Improved manage appointments page

Version 2.3
- Added ability to make a group booking
- Added new language: Finnish and Swedish
- Improved booking form - Hide time when daily based duration used
- Added new keywords in the language template

Version 2.2
- Added ability to check staff's availability in their Google calendar when a customer makes a new appointment.

Version 2.1
- Added ability to block time slot if staff can only handle one service at a time
- Added ability to set maximum number of customers allowed to book a service for the certain time period

Version 2.0
- New and improved user interfaces
- New admin dashboard
- Integrate with your Google Calendar in both one-way and two-way sync
- New payment summary in the manage payment page
- Enable your customer to add an appointment into their Google calendar, Outlook, and iCal
- Import customers in bulk
- Improved booking form performance
- Added new appointment's status field for better workflow
- Improved booking form for a day(s) bookings
- New manage appointment page
- Added service's note in the booking form
- Added customer and staff notification in appointment form for admin
- Added ability to add and edit payment in the manage payments page 
- Fixed multi-clicks event occurred when clicking edit or view link in data table - improve performance
- Fixed HTTP cdn being blocked when the plugin deployed on HTTPS
- Removed unnecessary two ajax call made when datepicker first initialize - improve performance
- Fixed error missing field when running appointment reminders
- Fixed select2 CSS styles conflicted with WooCommerce theme - Salient theme