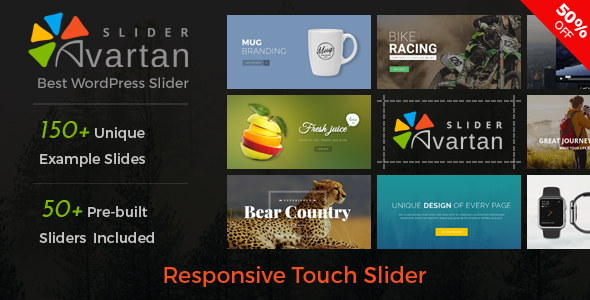 Avartan Slider – Responsive WordPress Slider Plugin
Avartan Slider is a responsive WordPress plugin to create innovative and stunning layered content image slider and video slider. This plugin is an effective and user friendly way to beautify your home page, header/banner section and showcase on your websites. It has unique features like touch and swipe navigation, drag and drop visual slider builder, multi-media content and many more.
It allows you to easily create powerful sliders with animated layers (text/HTML, image, shortcode, button, video, icon and shape layer), which makes very easy to create out of box slider. Avartan Slider makes your website more intuitive with no coding skill. It's very easy to manage for beginners to website developers.
Avartan Slider plugin bundles with precisely designed slider templates for various categories like Creative Design, Fashion, Product, Wedding, etc. so you can import that slider and by modifying it you can quickly create slider as per your requirement. Also we will keep adding more slider templates with future versions.
If you are looking to add animated sections in home page, within posts and pages design then Avartan Slider is a best solution for you that you never seen before.
Each and every single slide layer contains numbers of options to manage your element style and design like colors, font-style, font-family, etc.
Truly Responsive slider
This slider is very effective for Responsive WordPress themes, because it would automatically adjust to its container.
This would work out of box, as there is no need of JavaScript or CSS in your theme.
Slider takes care of handling display on all possible devices by Fully image scaling and element adjustment.
SEO Friendly
Alt and Title attributes available for all element images, slides and also for background image.
All Heading tags (h1, h2, h3, h4, h5, h6) and paragraph (p) can be used in content element to make your content seo friendly.
Rel and Title attributes available for links.
Touch & Swipe Navigation
Avartan slider is providing touch and swipe navigation which makes your navigation function much easy.
Smooth finger navigation by touch on the surface of your mobile devices.
Experience the same navigation as mouse dragging on desktop device.
Drag and Drop Builder
Avartan Slider supports an impressive number of options, even beginners will manage to create beautiful sliders.
User can drag and drop each and every element and create beautiful slider in minutes.
Developing skill is not required to build slider.
Post Slider
Create a Slider where the slider's content is taken from your site's posts.
Post Based Slider is a slider based on a specific category/tag (or multiple categories/tags) of your choice.
Choose regular Posts or one of your Custom Post Types.
Different types of post filters are available.
Added 10+ Built-in preset layouts for post slider.
Amazing Layers
One Text Element plays multiple roles like only text or custom html.
User can add single image each time in slide by Image Element.
Add Youtube, Vimeo or Self Hosted HTML5 video by Video Element.
Avartan supports all plugin Shortcodes by Shortcode Element.
Quickly make Button by Button Element.
Quickly add icon by Icon Element.
Quickly add shape by Shape Element.
Preview Slide/Slider
All slides are different in a slider. Why not preview slide before publishing?
User can preview each and every slide at the time of creation and modify it and save valuable time.
User can preview the slide according to slider layouts like fixed-width or full-width and Screen mode Desktop or Mobile.
Now, user can preview whole slider before publishing on front-end.
Animation and Transition
Make your slider effective with animation and transition. Avartan slider provides you to create more beautiful slide by using delay, ease in/out timing.
50+ Interactive Slide Animation and different types of ease in effects.
15+ Animation Effects for elements and different types of easein effects.
Parallax / 3D Animation
Parallax effect is used to apply movement to slide elements based on mouse or scrolling events.
Set Animation speed when mouse hover or scroll.
Set Parallax effect view into a 3D world.
Ken Burns Animation
Ken Burns effect allows you to create zooming animations for background image.
It's allowed Ken Burns animation to counterclockwise rotation.
Scale in option will increase or decrease the size of the slide background image for Ken Burns effect.
Element Design Style Options
Design your elements with Advanced style options.
You can set color, font-size, line-height, background-color, border, etc.
User friendly editor.
Resizable & Rotatable
Avartan slider provides a flexibility of Re sizable and Rotatable elements.
Resize and Rotate Elements as per your choice.
Video Support
Avartan supports Youtube, Vimeo and Self Hosted HTML5 Videos on slide.
Easily add youtube or vimeo video by url or video id on slide background or video as element.
Get the video information to display on video.
HTML5 video support mp4, webm and ogv type video.
Video Settings
Full width video support.
Set/Remove Preview image for Youtube or Vimeo video.
You can add poster image for HTML5 video.
More video settings like Autoplay, Next slide on video end, Force Rewind, Mute, Loop Video, etc.
Slides Sorting
Sliders are commonly used on the front page of business or portfolio websites.
All slides are important to show. But It is much important to show slides in arrangement of your choice.
To fulfill this requirement, Avartan Slider allows you to rearrange your slides easily just by drag and drop functionality.
Copy & Move Slide
Enjoy to copy same slide from current Slider to another Slider by using Copy Slide Feature.
If you want to remove same slide from current Slider and add that slide in another Slider then use Move Slide Mechanism.
Active/Inactive Slide
Now you have choice of Active or Inactive individual slide as like as WordPress Post.
If "Inactive", the slide will still exist in the backend, but will be invisible when the slider is shown on the frontend of your site.
Slide Background Overlay
Amazing Color Overlay for Slide using new bootstrap colorpicker with opacity.
Set Pattern Overlay on slide background from 35+ pattern collection.
Set Gradient and Gradient Overlay on slide background as per your choice.
Duplicate Element, Slide and Slider
Time is money. User can save time by using duplicate feature.
Avartan slider provides the feature to duplicate each and every elements.
User can create new slider within seconds by duplicating another slider. Slider also allowed to duplicate slide.
Grid & Layer Helper Support
Grid Helper makes your task easy of designing slides. There are various option to see grid helper line for editor like 10×10, 25×25, etc.
Layer Helper makes easy to set elements design on slides.
Design Content in Multiple Screen size
Enjoy to design your slide for desktop/mobile view level.
Various style options are available to set screen size wise.
Even you can set the element position separately for each screen size.
Font Support
Makes your slides text awesome by various collection of google font.
Use Font Awesome fonts to decorate text and button element.
Amazing Navigation Arrows
Enable/Disable Navigation arrows.
25+ Customizable CSS3 Navigation Arrows.
Advance settings of arrows like position, offset.
Collection of Navigation Bullets
Enable/Disable Navigation bullets.
20+ Customizable CSS3 Navigation bullets.
5+ way to set navigation position.
Advance settings of bullets like offset, direction, space.
Library of Loaders
Enable/Disable Loaders
15+ Default CSS3 Loaders
Upload your custom loader.
Mobile Visibility
Now hide your slider in mobile according to define width
Hide All Elements under define width
Hide Specific Elements under define width
Hide Navigation Arrows under define width
Hide Navigation Bullets under define width
Solo Slide
Design your website by using Solo Slide
Just create one slide by avartan slider which will not show navigation and timerbar.
Fully responsive website block is possible by Solo Slide.
Import Export Slider
No worry to transfer slider from one site to another site.
Powerfull Avartan slider provides feature to export and import slider.
Single Import/Export Slide
No worry to transfer single slide from one site to another site.
Just export your favorite single slide and import that one in your favorite slider.
Vertical Slider Support
Avartan Slider supports vertical slider
Now Advance settings of navigation bullets like direction, positions will help you to design vertical slider.
Force Full width Slider
Avartan Slider supports full width layout slider for more beautiful showcase
Now you can stretch that slider up to window width by Force full width
Visual Composer
Avartan Slider is fully supported with visual composer plugin.
Add Slider from Visual Composer's content options.
Added 8+ page builders support.
Add Favorite Slider into Post/Page
Easily add favorite slider by single click on Add Avartan slider button into your post or page.
Avartan Slider Widget
Avartan Slider Widget to display your slider in any widget area. Just select your favorite slider from list and then enjoy it.
Credits:
Note: Any media, Photo, video used in preview are not included in this item and you need to contact authors to get permission in case you want to use them in your commercial or non-commercial projects.
We've used the following jQuery plugins as listed.
WP Color Picker Alpha – A new Alpha series of WP Color Picker to add support of color picker with opactiy.
Jquery Growl – A Growl like notification plugin for jQuery.
Web Font Loader – A common interface to loading fonts regardless of the source.
Perfect Scrollbar – Minimalistic but perfect custom scrollbar plugin.
Jquery UI Rotatable – jQuery UI plugin that works in a similar way to Draggable and Resizable.
Select-2 JS – Select2 is a jQuery-based replacement for select boxes.
Clipboard – A pretty common use case is to copy content from another element.
TouchSwipe – jQuery plugin to be used on touch devices.
Greensock – JavaScript library for high-performance HTML5 animations.
Fontawesome – The iconic font and CSS toolkit.
Flaticon – The largest search engine of free icons in the world.