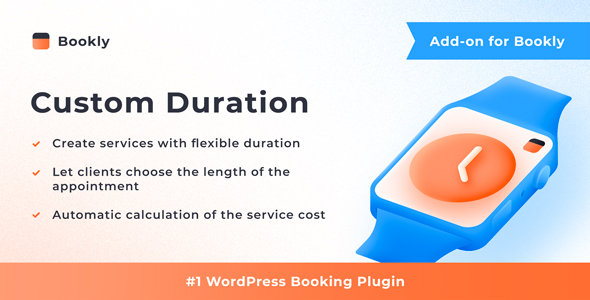 Important: This plugin is an add-on that requires the Bookly PRO plugin. View Bookly page at Codecanyon.
The Bookly Custom Duration (Add-on) allows your clients to have more control over their bookings by choosing how long they would like their appointments to last. This feature is especially useful for services that may require more time than the default duration, such as meetings or conferences. When clients book services with flexible duration, they can select the length of their appointment at the beginning of the booking process in the Bookly form, and the price will be calculated accordingly. Give your clients the freedom to customize their bookings with the Bookly Custom Duration (Add-on).
Features
Create time-flexible services
Let the clients decide on the appointment duration
Automatic price calculation
View this type of bookings in Bookly Calendar as one appointment, showing how many units have been booked
In the same way as all Bookly add-ons, the service custom duration feature seamlessly integrates with the Bookly PRO Appointment Booking and Scheduling Software System – the setup takes only a few minutes.
Read how to set up and use the Bookly Custom Duration (Add-on) in our detailed documentation.