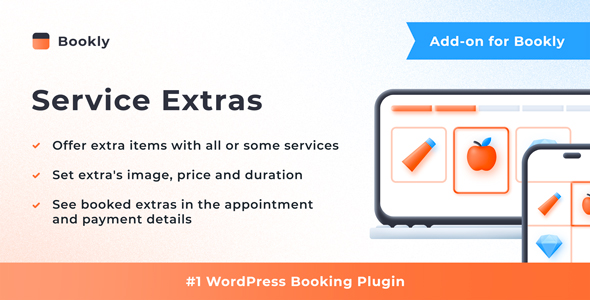 Important: This plugin is an add-on that requires the Bookly PRO plugin. View Bookly page at Codecanyon.
Bookly Service Extras (Add-on) allows you to offer extra items, services, products, equipment, or options that customers can book along with the regular appointment created via Bookly. These additional items can affect the overall price and duration of the appointment as selected by the client.
Features
Create extras for each service separately
Add and display an image of the extra item in the booking form
Set a duration and price of the extra item
Set minimum and maximum number of extras that can be ordered
Show information about extras in Bookly calendar, appointment details and Bookly cart
Choose when the Extras step is displayed in the booking form – before or after time selection
Use relevant placeholders in the email and SMS templates to notify staff members and clients about selected extras
In the same way as all Bookly add-ons, the service extras feature seamlessly integrates with the Bookly PRO Appointment Booking and Scheduling Software System – the setup takes only a few minutes.
Read how to set up and use the Bookly Service Extras (Add-on) in our detailed documentation.