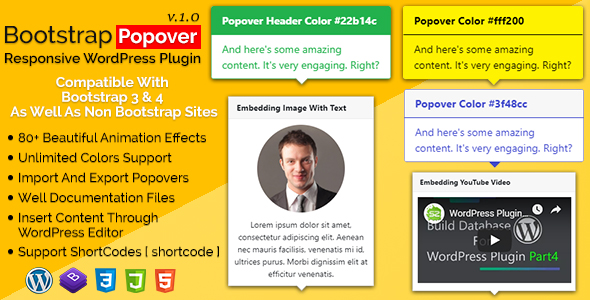 Bootstrap Popover – Responsive WordPress Plugin is a premium multi-purpose popovers builder Plugin for WordPress sites. You can insert content in popovers like headings, paragraphs, images, YouTube, Vimeo, Self-Hosted videos, icons etc. Also you can write your own HTML and CSS for popovers. You can insert content of other Plugins like woo-commerce by just adding their ShortCodes. With the help of our new Advanced Targeting Element Function it's really easy to adjust how and where to show popovers. You can show a popover on page load, on exit intent, on scrolling down, on click, on hover and on focus events. This Plugin is compatible with Bootstrap 3.x and Bootstrap 4.x. As well as you can use this Plugin in those websites those are not using Bootstrap easily just by selecting some options.
Key Features Of Bootstrap Popover – Responsive WordPress Plugin :
80+ Animation Effects
Insert Content Through WordPress Editor
Insert Content Through ShortCodes Of Other Plugins Like Woo-Commerce
Insert Content By Writing Your Own HTML And CSS
You Can Easily Export Popover Settings From One Website And Import To Another Website
Triggered On Page Load, On Scroll Down, On Leave Page
Triggered On Click, Hover And Focus events
Show Popovers On Positions Top, Left, Right, Bottom Or Set Auto
Change Colors With The Help Of WordPress Color Picker Or Add Manually Values
Very Easy To Use And Change The Popovers
Compatible With Bootstrap And None Bootstrap Websites
Compatible With Bootstrap 3.x And Bootstrap 4.x
100% Responsive And Mobiles friendly
Well Documented
Easy Integration to Web Projects
Support Help Via Email
Easy To Install And Activate The Plugin
Ability To Add Popovers Into Your Website By Using ShortCodes Or Functions
Support ShortCode To Add A Popover Into Your page's Main Content Area
Support Function To Add A Popover Into Your Theme's php File
Support Font Awesome
Support
If you have any problems or issues regarding using the Plugin, please contact us through email or comments dashboard.
Change Log


--- 04 June 2019 ---

- Initial Release Version 1.0