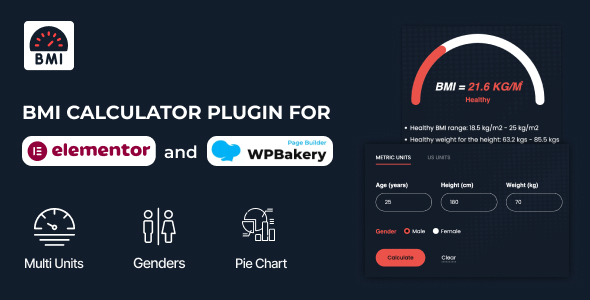 BS BMI Calculator WordPress Plugin for Elementor and WPBackery
This plugin is addon for Elementor and WPBackery Page Builder for enhancing their functionality with
for enhancing their functionality to display Body Mass Index Calculator Widget.
BS BMI Calculator WordPress Plugin for Elementor and WPBackery is very easy to install.
This plugin adds BMI Calculator element to Elementor and WPBakery Page Builder
which can display BMI Calculator to the Eelementor or WpBakery enabled site.
The Gym and Fitness Sites must have useful BMI Calculator Widget
Features:
Can calculate Body Mass Index by Metric Units and US Units
The Calculation processed on fly
It is translatable
CSS class and Id can be added
Simple interface
Integrates well with WPBakery Page Builder
Integrates well with Elementor
Well documented with video and text documentation
We can help customize the style of calculator if necessary.
Settings pages:
WPBackery settings:
Elementor settings:
Sourse & Credits
– WPBakery Page Builder
– Elementor
– Jquery
Minimal System Requirements
– PHP: Version 7.1 or higher.
– Uploads folder writable
– WordPress 5.0 or above
– Elementor 3.0 or above
– WPBackery 6.3 or above
Documentation
We have prepared well-detailed documentation. It will be included into the download package.