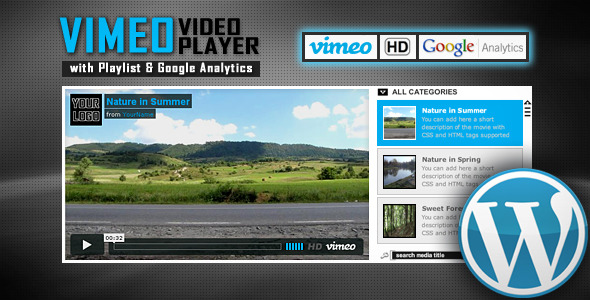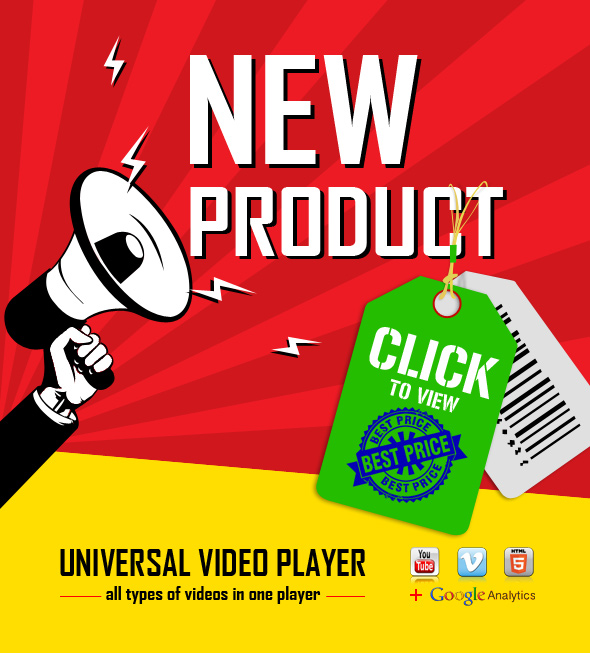 This wordpress plugin will help you administrate a flash video player using a very friendly interface. You'll be able to customize the player look & feel, playlist and CSS file.
It supports VIMEO files. It supports Google Analytics
You can set this player to any size you want in wp-admin, changing the player width, the player height and the playlist width. You can easy integrate this in your pages using the shortcode [lbg_vimeo1 settings_id='1' bgcolor='#FFFFFF']
FEATURES:
NEW:MULTIPLE VIDEO PLAYERS MANAGEMENT: If you need to include multiple players in your pages with different settings and playlist you can define the players and manage the settings, playlist and css styles for each one. If you need just one player in your website, just edit the default one.
NEW:If needed, a movie can belong to multiple categories

AUTOHIDE FOR CONTROLLERS
The controllers will auto hide on mouse out showing the entire movie

AUTOPLAY – OPTIONAL

DESCRIPTION FOR VIDEO – OPTIONAL
You can add here a short description of the movie with CSS and HTML tags supported

PLAYLIST SEARCH AND NAVIGATION
– you can search inside the playlist by title or description.
– next / previous buttons available
– option to hide search area

GOOGLE ANALYTICS – OPTIONAL. It can be DISABLED
You can insert google analytics to your site and track your videos. Each time a video is played it will be tracked. If you are not interested in google analytics for your site/player just set false in settings.

CLICK LISTENER
You can also click on the video to play/pause the video.

SUPPORT HTML AND CSS FORMATED TEXT.

PLAY LIST CUSTOMIZATION
– you can change the playlist width, playlist background color and transparency, categories color and css style, categories mouse over color, the color for the frame around the playlist image etc. You can also set if you want the categories alphabetically sorted or not. You can also disable the category section if you don't have categories or just one.

SHORTCODE AVAILABLE
You can easy integrate this in your pages using the shortcode [lbg_vimeo1 settings_id='1' bgcolor='#FFFFFF']
Also, optional parameters for the shortcode are available:
init_category – use it to specify a certain category to initialize the player.
init_movie_number – use it to specify a certain movie within the category to initialize the player.

HELP FILE
A complete help file is included
NEW PRODUCT
OTHER RECOMMENDED VIDEO PLAYERS
Keywords: wordpress, plugin, actionscript3, analytics, as3, categories, css, vimeo, google, hd, player, playlist, resizable, video, video player, videoplayer, search, selection, next, previous, navigation
If you need additional information don't hesitate to contact us at office@lambertgroup.ro. We'll try to answer you as quickly as possible.
Enjoy!