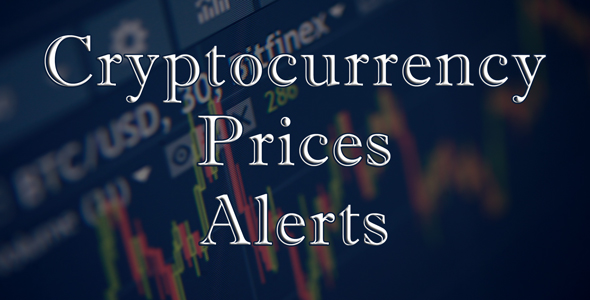 About Cryptocurrency Prices Alerts for WordPress
With Cryptocurrency Prices Alerts plugin your website visitors can sign up for instant email notifications when their favorite cryptocurrencies increase or decrease in price, change by a certain amount or rise in trading volume.
How it works?
Website visitor submits an alert (e.g. Bitcoin rises above 2,000 USD). Once the alert is confirmed by the visitor by clicking a secure link in the confirmation email the alert becomes active. The plugin pulls cryptocurrencies prices on a regular basis and checks if the alert conditions are met. If so the visitor receives an email notification.
Create a coin price alert and see for yourself.
Plugin features
More than 1800 cryptocurrencies supported, including but not limited to Bitcoin, Ethereum, Litecoin, Monero, Ripple, Dogecoin, Dash, Zcash, Waves and many others.
Almost all world fiat currencies supported (default currency for all alerts is defined through admin panel)
Black and white alert form styles (added via shortcode).
My Alerts page for website visitors to track their past and present alerts (doesn't require sign up!).
Rich HTML email notifications.
Unlimited number of alerts per visitor.
WPML (translation) ready.
Supported alert criteria
Price rises above certain value
Price falls below certain value
Price increases by at least certain value
Price decreases by at least certain value
Price increases by at least certain percentage value
Price decreases by at least certain percentage value
Volume in coins exceeds certain value
Volume in currency exceeds certain value
Day's low falls below certain value
Day's high exceeds certain value
Supply exceeds certain value
Market cap exceeds certain value
Admin panel features
View all submitted alerts
Deactivate active alerts
Export users emails to a CSV file
Set default fiat currency
Set My Alerts page slug
Set From email address
Advanced usage
Email notification HTML templates can be replaced with your templates. You need to inject certain substitute variables (see the original template for an example) in your custom templates, upload custom templates to partials/email folder and change default template file names in the plugin settings.
System requirements
WordPress 3.x or higher
PHP 5.5.x or higher
Access to cron jobs
Installation
Download the plugin zip archive from CodeCanyon.
Log in to WordPress admin area and select Plugins » Add New in the menu.
Click Upload plugin button.
Select the downloaded plugin zip archive.
Click Install now button.
After the plugin is installed click Activate button.
Click on the Coins alerts menu item in the admin panel and expand the Help dropdown in the top right corner for further instructions.
What license is required?
The Regular license entitles you to use the product on one website / domain only. If you want to use it on multiple websites / domains you have to purchase several Regular licenses (1 website = 1 license).
If you charge website users to have access to the product or its components you need to purchase the Extended license.
Themesforest authors — if you want to include this plugin into a theme please contact us to discuss partnership opportunities.
Please adhere to these rules. Read License FAQ for more information.
Changes history