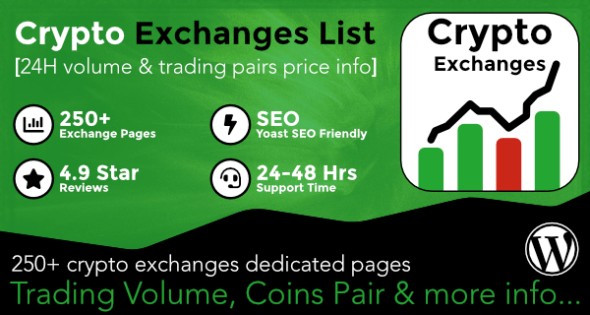 Top Cryptocurrency Exchanges List – WordPress Plugin
Cryptocurrency exchanges list pro WordPress plugin creates a list of 200+ best cryptocurrency exchanges by using crypto markets API data provided by coinexchangeprice.com public API. This crypto exchanges plugin uses coinexchangeprice.com public API to grab exchanges trading volume, Alexa rank, market pairs & much more…
Crypto Exchanges Plugin Features – Plugin DEMO
Best Exchanges List :- Create 200+ exchanges list and compare their 24H trading volume and bitcoin price in a beautiful dataTable. Check exchanges list demo here…
Market Pairs / Coins:- Find coins support and markets/trading pairs supported by top cryptocurrency exchanges.
Auto-generated Exchange Pages :- This plugin automatically generates dynamic 200+ exchanges content pages inside your WordPress website.
Yoast SEO Friendly Plugin:- Fully Yoast SEO compatible plugin, every exchange page contains a unique SEO title, meta description, and og:tags.
Smart Shortcodes :- Design single exchange page using smart crypto shortcodes that generate exchange-specific dynamic content.
Custom Content:- Easily add a custom description about crypto exchanges inside dynamic generated exchange pages and increase your website search visibility. Check exchange single page demo here…
Special Features (If you install "Coin Market Cap & Prices" plugin with this "Crypto Exchanges" plugin)
1500+ Crypto Coins List :- Display 1500+ crypto coins price list, charts & single page of every cryptocurrency (1500+ SEO friendly coin pages). Check coins price list demo here…
Comapre Coin Price on Exchanges / Markets :- You can compare coin prices on different cryptocurrency exchanges if you use both crypto plugins. Check single crypto coin page demo here…
Diplay Coin Historical Price :- You can display crypto coin historical price table and chart on single coin pages.
Crypto Coins Calculator :- "Coin Market Cap & Prices" crypto calculator contains 2 special features – [crypto to fiat converter] & [crypto to crypto converter].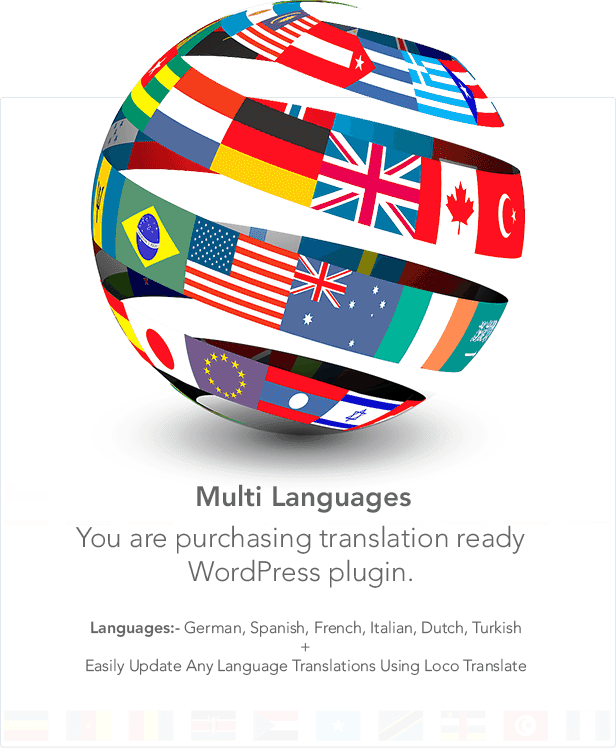 Disclaimer:- We are not responsible for any wrong data related to any exchange, it is the user's responsibility to correct or remove any wrong data related to any exchange because data is coming from a third-party API.
GDPR compliance WordPress Crypto plugin!