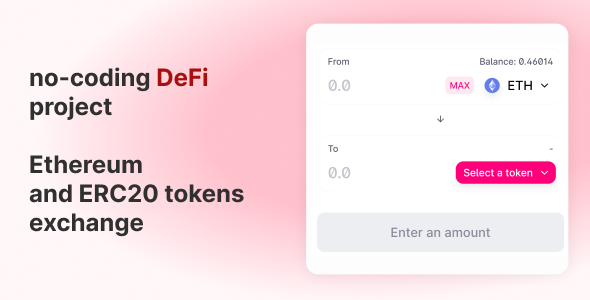 Ask a question! support@onout.org, Telegram Chat, Knowledge Base (+video)
Join the community! Join Discord, Join mailing list, Twitter
This is an admin panel for uniswap-interface open-source code. Setup your own fork of uniswap.org to your own domain.
Q: if people swap what contract is it using?
A: Admin can deploy smartcontracts using a tool in the admin panel
Q: Do you have any access to the funds, code etc?
A: No, we don't have access to users' and admin's money. But we can set 20% fee on admin earnings if you don't have a license code. Please do not install copies found at unknown sites. Don't worry this option is removable just activate your domain by emailing support@onout.org with your eth address, your domain and purchase code.
Q: can you do https://pancakeswap.finance/ clone?
A: this is the same, we do not provide custom development. but you can use farming and lottery plugin on a separate domain
Q: It does not work without liquidity providers? You have to add lp to any pair you want to trade? If I have liquidity on pancakeswap will my token be trade able on my swap? Or I have to add liquidity to my swap also?

A: yes, you need pairs with liquidity. You or another user must add the liquidity. To use both ways (own dex and pancakeswap/uniswap) use wallet dashboard interface
Q: How is liquidity maintained?
A: You or your users must create a pool. We do not provide liquidity for this, if you don't want to provide liquidity please take a look on https://onout.org/wallet/ which connected to big DEXes.
SEE ALSO:
1. Wallet with exchange plugin: https://codecanyon.net/item/multicurrency-crypto-wallet-and-exchange-widgets-for-wordpress/23532064
2. Interested in EVM-to-EVM Cross-chain bridge? Fill the form
3. DAO tool (based on snapshot.org)
4. Crypto Lottery
5. NFT Marketplace
6. Love our products? Buy our token, stake and get part of our revenue https://farm.swaponline.io/ (what about APY?
)