DW Chart is a WordPress plugin which helps you easily build Google Charts based on the available data imported. The plugin supports 11 cool chart types, and its powerful admin panel enables you to customize your charts much easily. The plugin uses the Google Visualization API.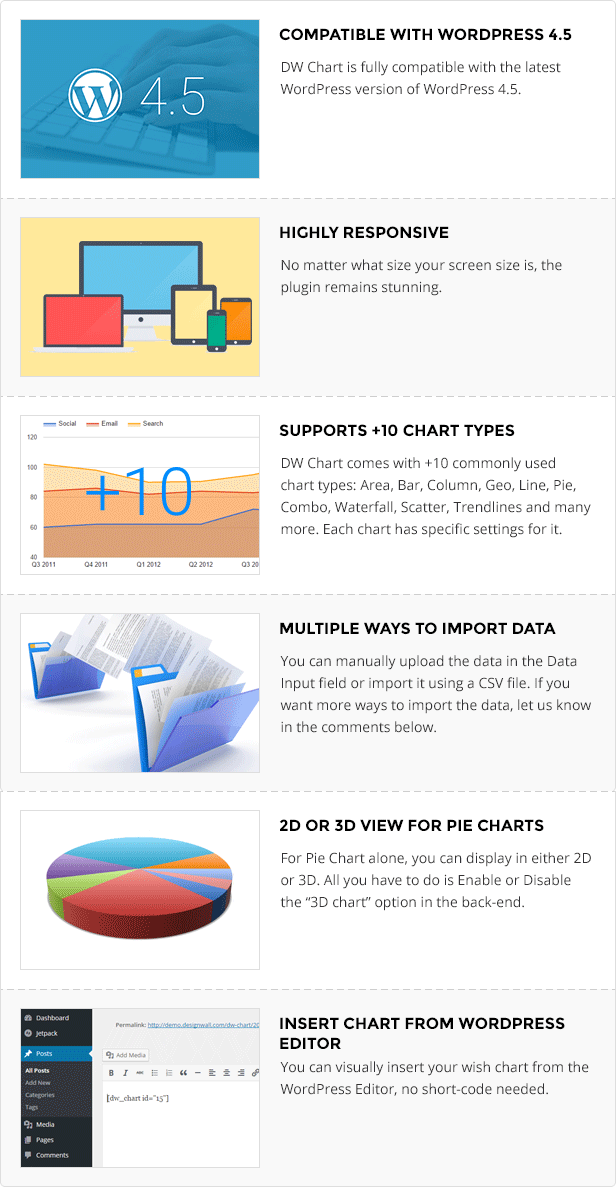 Compatible with WordPress 4.5
DW Chart is fully compatible with the latest WordPress version of WordPress 4.5.
Highly Responsive
No matter what size your screen size is, the plugin remains stunning.
Supports 10 chart types
DW Chart comes with 10 commonly used chart types: Area, Bar, Column, Geo, Line, Pie, Combo, Waterfall, Scatter and Trendlines. Each chart has specific settings for it.
Multiple Ways to Import Data
You can manually upload the data in the Data Input field or import it using a CSV file. If you want more ways to import the data, let us know in the comments below.
2D or 3D view for Pie charts
For Pie Chart alone, you can display in either 2D or 3D. All you have to do is Enable or Disable the "3D chart" option in the back-end.
Insert Chart from WordPress Editor
You can visually insert your wish chart from the WordPress Editor, no short-code needed.

Source