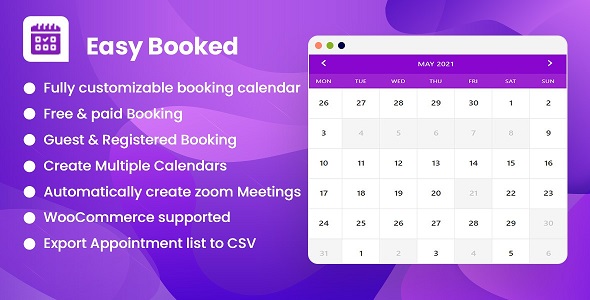 New Features Add
Custom Fields for collecting custom information for every appointment.
Add agents to manage appointment.
"
Add to Google Calendar" buttons for your customers.
Email and SMS notify appointment status changes and template is customizable
Features
Fully customizable booking calendar that can be used on any device
Simple WordPress integration with a shortcode.
Popup calendar with awesome animations after clicking a button and customizable
Free booking or Paid Booking
Automatically create zoom Meetings for booked appointments
Registered & Guest Bookings
WooCommerce supported
Create Multiple Calendars
The customer will be able to view his booked appointment lists in his profile
Two types of Time Slots can be created, one with the name of the week and the other with the date
Prevent appointments from getting booked too close to current date and/or time.
Color pickers to change your calendar's colors.
A powerful backend interface to manage appointments.
Filterable, sortable and searchable booking list
Export of bookings to CSV
Six months of 24/7 online customer support.
More features.