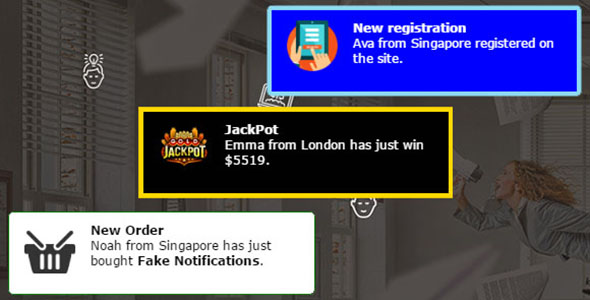 WordPress Plugin Fake Notifications – an effective marketing tool designed to stimulate the conversion of site visitors into customers. Create and place in the required location on your website animated notifications, showing to the visitor sham activity of the registered users, like logins to the site, ordering or subscriptions, mentioning on social networks and any other activity.
Through the demonstration of notifications generated to create a "sense of queue" or "herd effect" with plugin for WordPress, the visitor receives a subconscious motivation to join the actions of other users.
Key features of the plugin:
create a template and configure settings of notifications display with a kind of activity to which you want to motivate the visitor – registration, purchase or order of services, distribution of publications on social networks;
set the variables of time, what gives the demonstrations realistic effect;
create an unlimited number of different types of notifications to provide comprehensive impact on visitor;
select the most effective text messaging for your target audience;
set the notifications style and its animations so that they harmoniously woven into the sites design, depending on the used WordPress theme;
set the notifications display to registered users or all users;
for the sites with localization, set the display depending on the selected language.
Select the best type of impact on the user.
Use Fake Notifications for WordPress to create the effect of demand for your product or service, constant registration of new users, subscription to email-newsletter or events conducted by you. For business, in which the promotion of SMM is important, set the demonstration of mentions on social networks.
Insert the demonstration window on any place of the site via short code, generated by the plugin. This makes possible to fine-tune the shows, on separate pages or entire resource. In addition to the text, add your own icons to notification, or use icons from a basic set of WordPress Fake Notifications.
If you consider the demonstration of a fictitious activity inadmissible, use the notifications to display useful information for the site visitors, including the real users activity.
For greater efficiency, use the plugin of social evidence creation for WordPress, along with other plugins, developed by our team.
Changelog

= Version 4.0 =
- Added: Live preview
- Added: notification schedule options
- Added: test mode option
- Added: Unit for location
- Updated: Admin style
- Update: Font Awesome Icon to v. 5.12

== Ver 3.0 ==
- Added: option 'Don't show on screens more'
- Added: option for disabling FontAwesome 5 from front-end
- Added: Border style options: border style
- Added: Shadow style options
- Added: Content style options
- Added: Title style options
- Added: Icon style options
- Added: Close button size option
- Changed: Admin Style
- Optimized: Styles and Scripts (minification and response time reduction)
- Fixed: Control on the devices

== Ver 2.3.2 ==
- Added: Set cookie time
- Changed: name style and script
- Fixed: saving in database 
== Ver 2.3.1 ==
- Fixed: list sorting
== Ver 2.3 ==
- Updated: Font Awesome to version 5
- Added: 2 variables
- Added: Close Button
- Added: Title color
- Added: function 'Don't show after click' on link
- Added: Editor for notification content
- Fixed: position 'Bottom'

== Version 1.2 ==
 Fixed: Location
 Fixed: Show for users