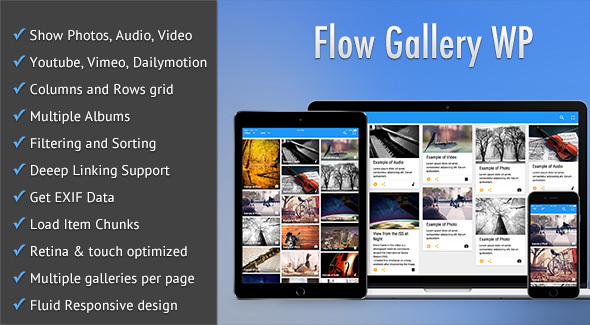 Create stunning WordPress galleries with Flow Gallery
Showcase your photography/audio/video work with 'Flow Gallery'; the ultimate professionally developed WordPress plugin based HTML5 Multimedia Gallery.
Choose from column or row layouts and present your best work in style with this epic gallery plugin. Flow Gallery supports YouTube, Vimeo and DailyMotion as well as any stock footage and other self-hosted video/audio making it perfect for almost every occasion.
What are you waiting for – take a look for yourself!
Select how to display your multimedia with support for multiple albums, deep linking, filtering and sorting. Your best work has never looked better.
Stunning CSS3 animations make transitions mesmerising to watch and creates that 'sticky' experience for your users.
Award Winning Material Design!
2015 Envato Winner: Material Design on CodeCanyon
Material Design is an interactive design language developed by Google, and Flow Gallery was voted best Material Design item on CodeCanyon, Envato Market in 2015. It is designed with best practice coding techniques to provide the most modern design available in market today.
Of course Flow Gallery gives you more pixels per square inch meaning it is ready for your Retina Ready devices, featuring a thoroughly Responsive design which is optimised for touchscreen devices.
It displays beautifully across all types of devices, mobile/cell phones, Tablets and all desktop browsers while providing the unique feel of a native app.
You can pass an mp4 file for video, and mp3 file for audio, or pass all the necessary formats for the widest possible support of native HTML5 playback. Flow Gallery plays audio/video using HTML5 in supported browsers and Flash in older browsers.
Still not convinced? Explore the Demos Now!
Whatever you choose to do Flow Gallery will work in both modern and old browsers (with suitable fallbacks where necessary).
Don't have a website built on WordPress? Experienced enough to manually install the gallery on your site? Good news then! We have also developed a robust jQuery Plugin with all of the same amazing features which you can tweak to your heart's content. Flow Gallery as a jQuery plugin is available separately here.
Feature List:
Display photography, audio and video including self hosted multimedia.
Choose columns or rows to display your work
Plays audio and video natively in modern HTML5 browsers and switches over to Flash/Silverlight for older browsers.
Can embed Youtube, Vimeo and Dailymotion videos.
Supports multiple gallery albums or sets.
Items can be shown as cards or as tiles. Also albums can be shown with stacked effect or as tiles.
Items can have titles and/or descriptions with various options of showing them based on item display style.
There are numerous options of animating item/album entrances, titles, descriptions and the lightbox.
Filter items by file type or custom categories.
Sort items by title, type or custom sort parameters, both numeric and alphabetic and in either ascending or descending order.
Show/hide the various menu bar components, fix the menu bar on page scroll, or even hide it completely.
True HTML5 Fullscreen option in supported browsers.
Deep-linking feature which provides links to individual items, with album support, allowing you to bookmark/share them.
Load items in chunks which can either be loaded manually or automatically as the page is scrolled.
Allow sharing of items to popular social media sites from within the gallery.
Display your photos' EXIF data as item descriptions.
Enable caching of data to have faster loading. Useful for Youtube/Vimeo/Dailymotion, folder scanning, EXIF extraction.
The gallery items can also act as links to external pages.
Special Notes
Autoplay option will not work in mobile devices. This is disabled by device manufactures.
Player volume setting will not show up or work in Android devices. You have to control the volume through the device's own volume buttons.
Also some of the modern HTML5 features such as Fullscreen will only work in modern browsers.
The plugin uses Youtube API v3 for which an API key needs to be obtained from Youtube
The gallery script has been tested and is fully compatible with jQuery 1.9+. and also jquery 2.0+.
If you have any query regarding any feature of the gallery before purchasing then please post your query in the comments section and I will get back to you as soon as possible.
Installation Documentation
This item is a WordPress plugin so a basic knowledge of WordPress is required in order to install it successfully.
Flow Gallery comes complete with detailed walk through and installation documentation.
Support
We manage support Mon – Fri through the Comments section on each item page.
Support means:
Availability of the author to answer questions.
Answering technical questions about item's features.
Assistance with reported bugs and issues.
Help with included 3rd party assets.
Reviews
Changelog
Version 2.1.3 (15 January 2022)

• Fixed an issue with showing thumbnail images from Vimeo API in the gallery settings page in WP Admin

Version 2.1.2 (20 February 2021)

• Security fix to prevent someone from maliciously creating random files in the server

Version 2.1.1 (2 February 2021)

• Fixed an issue with parsing the response from the Vimeo API

Version 2.1 (7 November, 2016)

• Fixed a bug in showing links over items.
• Fixed an issue with album sorting in admin area.
• Allowed the embedding of the gallery shortcode inside widgets.

Version 2.0.1 (24 May 2016)

• Fixed a video size issue in Chrome.

Version 2.0.0 (12 February, 2016)

• Provided the ability to specify custom labels for the various components in the gallery menu bar.
• Added the option to specify the maximum video width inside the lightbox.
• Added the option to hide the names of categories in the Filter menu for which there are no galley items present.
• Thumbnails in the gallery are now provided with alt tags containing the item titles.
• Fixed an issue with the playing of audio and videos in mobile devices. 
• Fixed an issue with the sorting of albums in the gallery admin area.

Version 1.2.2 (13 January, 2016)

• Fixed a problem with deep linking of items and social media sharing when the shuffle option was enabled.

Version 1.2.1 (5 January, 2016)

• Fixed a typo that was causing issues.

Version 1.2 (30 December, 2015)

• Added option to provide a custom background colour for the gallery menu bar.
• Removed a min-width restriction on the gallery container from the css file.

Version 1.1 (25 December, 2015)

• Automatic filling out of item title and description if the media file in the WP Media Library has those metadata.

Version 1.0.2 (2 December, 2015)

• Fixed an issue that was preventing the generation of thumbnails for photo items. 
• Fixed some more php warnings.

Version 1.0.1 (30 November, 2015)

• Fixed an automatic chunk loading bug when the gallery was made fullscreen.
• Fixed some php warnings.

More Items by CosmoCoder