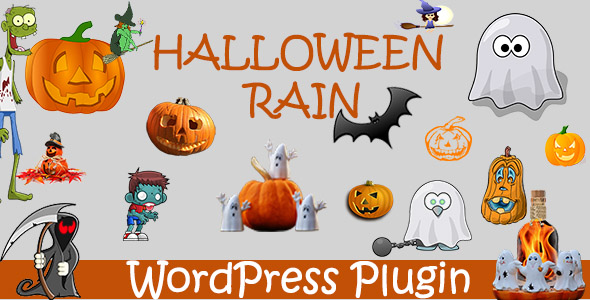 Halloween Rain will decorate your website for Halloween. Halloween is coming every year and many of us loves this event. In many places of the Earth this celebration is associated with pumpkin, zombie, witch, ghost, so let it snow on your WordPress website!
Halloween Rain makes to rain on your website! You can choice how you want to rain. This plugin have many options that can help you make your perfect Halloween Rain for your website.
You can customise:
Plugin activation for Desktop or Mobile
There are 17 different styles to choose, or you can combine all 17 or a part of it to make a very interesting Halloween rain effect!
There are 6 different sizes to choose, or, you can also combine all six or a part of it to give to your WordPress website a diversified Halloween rain.
You can control and set the number of models. It is your choice how abundant you want to rain on your WordPress website.
If you want to rain slower or faster, just decrease or increase the number in the speed field from your settings page for this plugin.
Update History

- v.1.5 - General code improvements
- v.1.4 - Now you can choose if you want to display this plugin effects only on specific posts/pages
- v.1.3 - Now you can choose if you want to display this plugin effects only on homepage
- v.1.2 - Bug fixing
- v.1.1 - General improvement
- v.1.0 - Initial release

If you love to add such type of effects on your websites, please check the Rain Bundle
You will receive 6 plugins at only $29, that means that you will receive 6 rain plugins for the price of 3 plugins!
https://codecanyon.net/item/rain-bundle-wordpress-plugins/28471942



Source