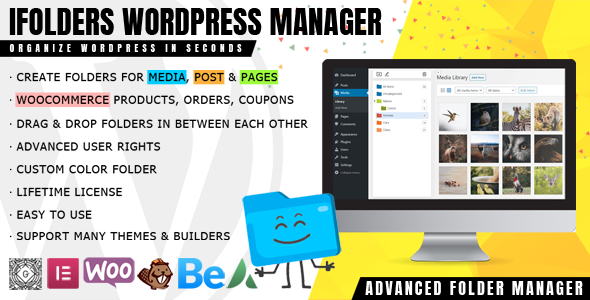 Do you have many posts, pages or media files in your WordPress site? iFolders plugin helps you to manage them easily and quickly. It allows you to mange thousands of your files, posts, pages and custom post types. This plugin takes WordPress to the next level.
HOW IFOLDERS PLUGIN CAN HELP YOU
There are several ways for you are using the ifolders manager plugin to organize your WordPress data. Keep all your posts & pages as well as media files (images, music, videos) structured using directories and subdirectories. Organize all data into collections by certain criteria, such as date, topic, keyword or some event.
Note: adding a post or page or image into a folder will do not change their data.
SCREENSHOTS
MEDIA LIBRARY, CREATE FOLDERS, DRAG & DROP ITEMS
BULK DELETE SELECTED FOLDERS
BULK REORDER FOLDERS
MANAGE & GROUP WORDPRESS PAGES, POSTS, USERS
FEATURES
FRIENDLY DRAG & DROP INTERFACE
Move multiple items at once to organize your media library, posts, pages even faster. You can move items to a folder, move folder/folders to folder in just seconds, it reduces the amount of your clicks.
CREATE & MANAGE UNLIMITED FOLDERS
You can quickly add new folders at once, drag & drop them to organize your own tree structure the way you want.
SORT FOLDER ITEMS
Select the sorting of items within a folder. Available sorting options include by name, date, modification, and author. This allows you to easily organize your content in the way that makes the most sense for you.
FILTER FOLDERS
User can search folders and show only those that contain a specific word or phrase in their title. You can use the '*' or '?' wildcards, they can be used to represent many characters or a single character in a folder name.
ORGANIZE WORDPRESS POST TYPES
Categorize all WordPress built-in post types: media files, posts, pages, users.
WOOCOMMERCE INTEGRATION
The plugin supports folders for woocommerce lists: products, orders and coupons. As result the woo folder manager allows you to not waste time on unnecessary clicks.
FAST MEDIA MANAGEMENT
Easily move media files individually or in bulk between folders. Create, rename, delete, and arrange folders within seconds.
DIRECT UPLOAD TO FOLDER
Select a folder and upload your new files directly into it. Another great little time-saver. Available in your media library and the "Add New" media screen.
RESIZABLE SIDEBAR
Resize iFolders sidebar with folders to your liking and toggle it on/off altogether when you have to. Your custom sidebar size setting will be saved.
SMART DELETE
Add, rename or delete a folder is just a click. Than you delete a folder, you're not losing your data in it. All your items are moved to 'Uncategorized' folder, so that you still can use them later.
COLOR FOLDER
Don't you want to set a color for a folder? It's possible, make your folders more colorful in one click way.
LANGUAGE PACK
Support: English, Germany, Italian, Spain, Russian, French
NEW FEATURES?
If you need any more features that does not contain the plugin, just leave us a feedback. It can be implemented in the next versions. We are open for any suggestions.
COMPATIBILITY
PAGE BUILDERS
Gutenberg – modern built-in WordPress block editor
Classic Editor – classic built-in WordPress editor
Elementor – leading website builder platform on WordPress
Beaver – page builder you can trust with your business
Bricks – amazing block editor with many templates
Brizy – next-gen website builder that anyone can use
and more…
THEMES
Avada – swiss army knife of WordPress themes
Divi – most popular WordPress theme in the world
BeTheme – more than just WordPress theme
Bridge – not just a theme, it's a collection of amazing examples
Flatsome – multi-purpose responsive WooCommerce theme
and more…
Sources and Credits

= 1.3.0 =
* Fix: change folder color

= 1.2.9 =
* New: move items to a folder with touch events

= 1.2.8 =
* Fix: css style issues
* New: folder search bar

= 1.2.7 =
* New: license activation form
* Mod: rewrite code

= 1.2.6 =
* Fix: strpos(): Empty needle in...
* Mod: order folder items UI

= 1.2.5 =
* Fix: settings page, cookies is not defined

= 1.2.4 =
* New: sort folder items

= 1.2.3 =
* Mod: colorpicker saves a selected color for later use

= 1.2.2 =
* New: translation pack

= 1.2.1
* New: feedback form

= 1.2.0
* New: support builders: Bricks, Beaver, Brizy, Elementor, Avada Theme and etc

= 1.1.0 =
* New: support posts, pages, woocommerce products, orders, coupons

= 1.0.1 =
* Fix: Issue with "class not found" 

= 1.0.0 =
* Initial release