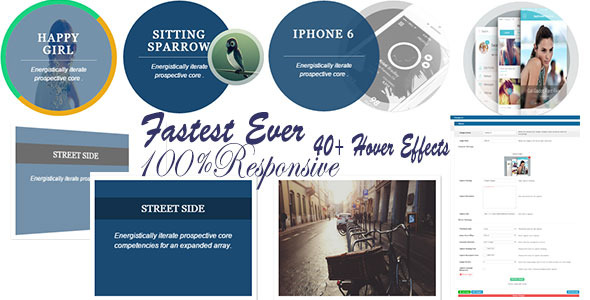 Description
Image Hover Effects is an impressive hover effects collection.It is Fastest and Simplest plugin which apply over 40 hover effect to images on front end. A bunch of options can be made by admin to customize these hover effects. It won't use any JS API. Pure CSS3
is used to render apply effect fastly.
It contains lightbox option. It allows to open link,image and caption content in lightbox. You can set background image as well as color and gives you all options by which you can set images with animations as you want.
You can use it as displaying your team or you can create product showcase with animations.
How To Add Image Over Image
You can add image over image by using "Caption Background Type" option. Set it to image and upload second image which will appear when you hover over first image. Leave title and description empty if you just want to show image over image
Features
40+ Hover Effects
Super easy Installation
Compatible with Visual Composer
Pure CSS3 Animations
Multiple and Unlimited Shortcodes
Multiple and Unlimited Categories
Custom Width for Images
Custom Height for Images
Custom Settings for every Single Image
Custom font size both heading & description
Custom Background Color for Caption
Custom Background Image for Caption
External link for each hover item
Open link in new tab
100% Responsive
AJAX Based
Easy and Fastest to Setup
Grid Option
Shortcode Generator
All Major browser supported
24/7 Support
Support within 12 hours
Square Style Preview
Circle Style Preview
Admin Settings
How To Use
Install plugin from zip file and activate it
Once plugin is activated you can access options at Dashboard > Image Hover Effects-Pro
Fill all the settings Options for the First Image
Save Setting After filling all the options for the first Image and refresh the page(Recommended)
Add Images in the category and Get Shortcode using "Get Shortcode" button
Use Shortcode and see plugin in action
Quick Support
Feel free to contact us if you have any questions.
Write Us: http://webdevocean.com/contact-us/
Change Log
5.0 March 23, 2020
- Custom width height for different devices
         - Custom CSS class option added
         - Font-family option added


4.8 October 12, 2019
- Image over image option added
         - Typography options added
         - Improved admin settings


4.5 August 1, 2019
- Limited images issue fixed
         - Responsive issues fixed

4.4 July 8, 2019
- Improved settings page
         - Fix bugs
         - More Gridding Options Added

3.1 September 24, 2015
-Responsive Issue Solved

3.0 September 2, 2015
- Admin Setting Area Improved
        -Issue with some Hover Effects resolved
        -Detailed Documentation Added

2.0 August 17, 2015
-Bug removed: Slaches replaces colons and semicolons