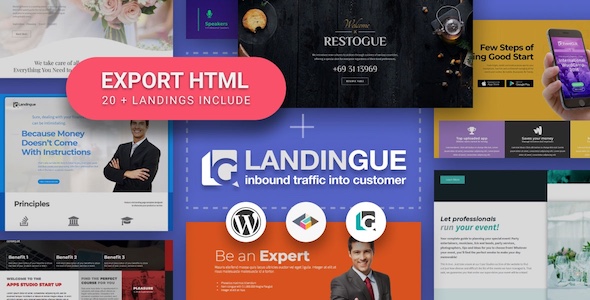 LandinGUE is a page builder plugin WordPress site, solution for creating various page, landing page or one page site whatever your theme. The landing page style will have own style because the landing page loaded before theme style loaded. With drag & drop element you can build many landing for freedom
Unique Feature

Export To HTML tool, now you can export/convert your page/landing to static html.
Features
Drag and drop builder.
Over 500 pre-built sections and elements ( importing from starter data ).
30+ Modules element.
Element manager.
Section manager.
Modal window with iframe or inline content.
Element/Section builder.
Importing tools.
Google Fonts.
Auto update.
Modules Available
WP Main Menu ( new )
Row Section
Title Heading
Image
Text Editor
Button
Divider
Icon Link
Navigation Menu
Section Separator
Video Link
Google Map
Counter Number
Flip Box
Hover Box
Responsive Tab
Carousel
Image Box
Progress Bar
Circle Bar
Icon Box
Icon Group
Countdown Timer
Before After Image
Custom Team
Testimonial Box
Price Table
Optin Form
Magic Form
Phone Callback Form
Login Form
List Box
Feature List
WooCommerce Shortcode

Since version 2.2.0 change to page builder with ability to create various page, post, landing, onepage etc. With more Library you can build more various page.


Where is site demo builder in action? Check our newest theme Lapindos.
Note: Images are not included in download file. The online samples images belong to their respective owners and are only used for demo purposes.
What's included in the package
In the package, we include the following :
Main plugin installation file
Documentation
Support
If you need support, please send us using Item Support Form.
We usually respond to support requests within 24 hours on weekdays.
 Rate Us  

 Facebook 

 Follow 

 Support
Updates
19 January 21

Version: 3.2.0
- WordPress 5.6 compatibility 

20 August 20

Version: 3.1.0
- WordPress 5.5 compatibility 

23 September 19

Version: 3.0.0
- NEW: Export To HTML.
- New Element: Main WP Menu.
- Improvement: add affix mode to row section

6 March 19

Version: 2.5.9
- Improvement: Adding check_ajax_referer() for AJAX request.
- New Element: Before After Image.

11 December 18

Version: 2.4.12
- Bug Fixing: Google adwords URL by default when select 'automatic tagging' 
- Bug Fixing: Gutenberg crashes issue
- WordPress 5.0 compatibility 
- Improvement Data Privacy Handling : Add user action confirmation being updating 

27 September 18

Version: 2.4.8
- Bug Fixing: Responsive tab bounce issue. 
- Bug Fixing: Pricing table button issue. 
- New Element: Login Form.
- New Element: Phone Call Back Form.

9 May 18

Version: 2.3.2
- Adding ability as page builder to create various page, post, landing etc 
- Adding new section library 
- Adding new demo 

4 January 18

Initial release

Credits