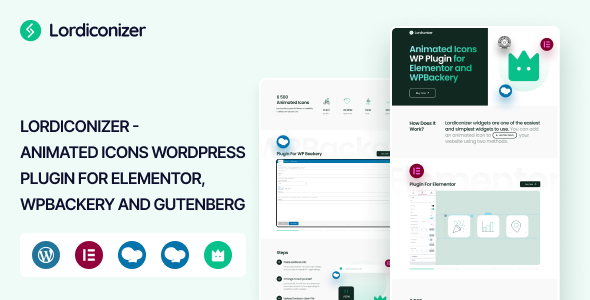 Lordiconizer – Animated Icons WordPress Plugin for Elementor and WPBakery
This plugin is addon for Elementor and WPBakery Page Builder for enhancing their functionality with LordIcon
Animated Icons. It can add Lordicon icons to Elementor and WPBakery Page Builder.
Lordiconizer is very easy to install and customize. Lordiconizer adds Lordicon element to Elementor and WPBakery Page Builder
which can insert Lordicons animated Icons to the Elementor or WPBakery enabled site.
It has several settings to customizes the size of the icons, animation type, it can add titles, links to icons.
Features:
Lordicon icons can be added by Lordicon json link for WpBakery
Lordicon icons can be added by Lordicon json link or by Lordicons json file for Elementor
Lordicon icons customizable colors
Unlimited colors, for the icon and icon background shape
Lordicon icons customizable sizes
Lordicon icons customizable animations types
Links and title can be added
CSS class and Id can be added
Simple interface
Integrates well with WPBakery Page Builder
Integrates well with Elementor
Well documented with video and text documentation
The plugin does not include any Lordicon icons, this plugin only enhances with Elementor and WPBackery addons
the feature to insert Lordicon icons to WordPress sites.
Settings pages:
WPBakery Settings:
Elementor settings:
Icons can be upload via JSON file or pasting just URL:
Sourse & Credits
– WPBakery Page Builder
– Elementor
– Jquery
– Lordicon
Note:
Lordicon icons, images and videos are only for demo purpose and not included with the download bundle.
Minimal System Requirements
– PHP: Version 7.1 or higher.
– Uploads folder writable
– WordPress 5.0 or above
– Elementor 3.0 or above
– WPBakery 6.3 or above
Documentation
We have prepared well-detailed documentation. It will be included into the download package.