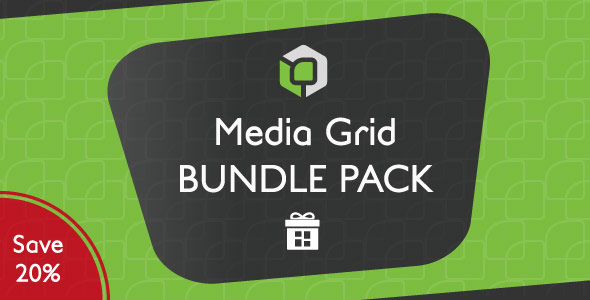 The complete Media Grid suite!
Finally you can get the most flexible WordPress Grid system without wondering which add-ons you need.
This is a special pack including Media Grid plugin and its two add-on!
Save time with a unique installation and an unified update system acting on every installed element.
Save up to 20%
This is not only a big advantage on usability side, but an opportunity to make a unique deal!
In fact, purchasing every item singularly you would spend at least 57$!.
What you get




Unique, filterable and layout-free content grids
Visual grid builder with dynamic & mobile mode
Compose grids mixing posts, items and WP Media Library images
Full media support (image – audio – video)
Two lightbox modes (media or text focused)
Unlimited item options with retina icons
1-click fast setup with 10 preset styles
WooCommerce integration + comments





Unlimited overlays for your grids
Hundreds of possible combinations
Item's description with auto-shortener
Mouse hover behavior control
Fifteen presets with editable overlays
Use a different overlay for each grid
Social buttons overlay





Unlimited filters for your grids
4 layouts (top – button – right and left side)
Single and multiple option filters
Numeric range filter
Filters summary bar
Advanced WooCommerce integration
Complete deeplinks integration