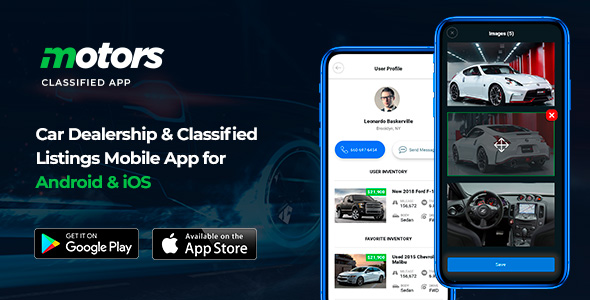 Motors – Car Dealership & Classified Listings Mobile App for Android & iOS
Motors App is a brand new Flutter
native app that gives you the ability to synchronize data between your website and app. No Paid Plugins Needed, Everything Inside. Launch your iOS and Android apps today! The app is fully compatible with the Motors ­WordPress Theme.
Use our Motors App Template and publish your mobile apps on App Store and Google Play in just a few hours. The generic template accommodates a wide variety of use cases, powered by universal features and design. Optimized for both iOS and Android phones, this app template enables you to create your own apps to list your classified car listings that belong in categories and can be added on a map.
Motors Classified App has flexible navigation for car listings, easy to use interface and support several amazing features. Advanced features and screens supported by this App including Add Listing, Simple Car Search, Car Details, User Authentication, Dealer Profile & Public Page.
Get one of the most convenient, most secure, and the modern classified ad apps and make your Ads listing website expedient. It helps to enhance your visibility, reinforce your brand, increase exposure across mobile devices, boost your website traffic, boost your customer loyalty. This app creates direct marketing channel to build a healthy relationship with your customers.
Setting up Motors App – Flutter Native App is very easy. If you already had experience with WordPress theme options then it's easier than ever for you. If you are a beginner then we have complete documentation for you. You can set it up easily following the wizard guide.
Special features:
Universal Listings, with rich features, such as:
Title, Description
Seller Contacts
Location (allowing the listing to be displayed on the map)
Characteristics (to describe the listing in details as well as to make it discoverable in search).
Advanced Search allows users to quickly and efficiently find what they're looking for.
Advanced Dynamic Filters
You can choose to add any filters you want – anything that's appropriate to your app (think car model, car make, year, mileage, price, etc).
"Favorites" functionality, to give users the ability to check out a listing later.
"Add a Car" flow
You can allow your users to add their own classifieds. This is very useful if you're looking to create a marketplace where buyers and sellers can interact.
Upload as many photos as you want.
Camera & Photo Library features – to quickly snap photos on the go
Filters Picker – to choose which filters and what values apply to the new listing
Try Free Demo
User Management
Login & Logout
Registration
Please be informed, according to the Envato Item Support Policy any mobile items on Codecanyon are not supportable. As a member of the Envato community, StylemixThemes acts within the policy and does not provide the support service on mobile applications.
Please note this app is built on Flutter 3.3.9
If you have any questions or problems you need to be solved, you can always use the Comments section on the item page. The support team will process your request as quickly as possible.