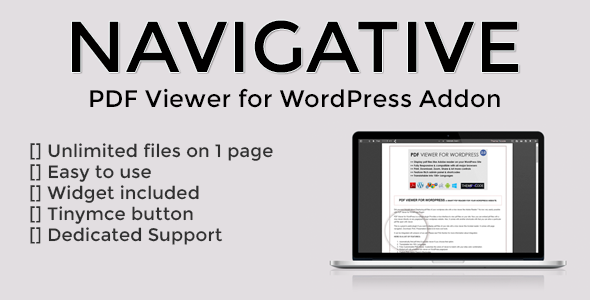 What Navigative Addon Does ?
Navigative is an addon for PDF Viewer for WordPress which allows you to display multiple pdf files on a single page with a navigation on the sidebar.
This is useful, especially when you have a few pdf files which you want to display using the iframe shortcode but don't want to create so many pages.
Requirements
This addon requires PDF Viewer for WordPress to work properly.
Other items by ThemeNcode
PDF Viewer for WordPress
WP File Access Manager
ThemeNcode PDF Reader – PHP Script
Visual Composer Addon for PDF Viewer for WordPress
Elementor PDF Viewer for WordPress Addon
Documentation ?
Please have a look at overview video for more clear idea about the addon.
WorkFlow of Navigative on your website
Another View
One more View
Changelog
3.2 ( 24 December 2022 )

Fixed issue with including framework file from main plugin

3.1 ( 28 October 2021 )

Added new Widget with updated interface
Misc. Improvements.

3.0 ( 17 May 2021 )

Updated Compatibility with PDF Viewer for WordPress version 10.0

2.2 ( 1 June 2020 )

Added new shortcode Parameters
Compatible with latest PDF Viewer for WordPress

2.1 ( 1 May 2020 )

Added iframe_title shortcode parameter
Added Automatic Update Checker
Added One Click Update Feature 
Removed port from generated url which causes issue sometimes
Re-organized Admin Menu
Fixed a Warning message
Misc Improvements

2.0 (21 August 2019)

Added Additional Shortcode Parameters
Added Shortcode Generator under ThemeNcode PDF Viewer Menu in wp-admin

1.1

Misc Improvements

1.0

Initial Release