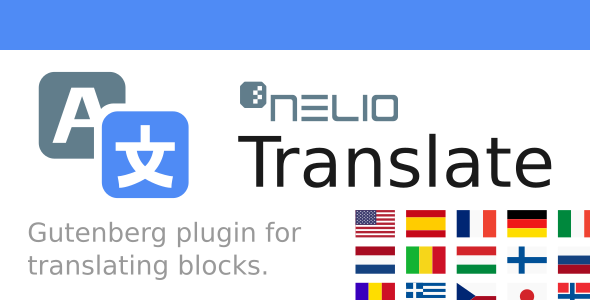 Nelio Translate Plugin for WordPress' Block Editor
Nelio Translate is a user-friendly yet powerful WordPress translation plugin.
This is an automatic translation plugin, which means that you won't have to spend countless hours manually translating your website. It can take less than a minute to have it running, is that simple.
Easy to use
Integrates directly with the WordPress Admin System.
Compare translated content with original one.
Source and target language selection.
Translate one block at a time or the whole content of posts, pages and custom post types.
Supported languages
A total of 103 languages are supported for automatic translation:
Afrikaans, Albanian, Amharic, Arabic, Armenian, Azerbaijani, Basque, Belarusian, Bengali, Bosnian, Bulgarian, Catalan, Cebuano, Chichewa, Chinese(Simplified), Chinese(Traditional), Corsican, Croatian, Czech, Danish, Dutch, English, Esperanto, Estonian, Filipino, Finnish, French, Frisian, Galician, Georgian, German, Greek, Gujarati, HaitianCreole, Hausa, Hawaiian, Hebrew, Hindi, Hmong, Hungarian, Icelandic, Igbo, Indonesian, Irish, Italian, Japanese, Javanese, Kannada, Kazakh, Khmer, Korean, Kurdish(Kurmanji), Kyrgyz, Lao, Latin, Latvian, Lithuanian, Luxembourgish, Macedonian, Malagasy, Malay, Malayalam, Maltese, Maori, Marathi, Mongolian, Myanmar(Burmese), Nepali, Norwegian, Pashto, Persian, Polish, Portuguese, Punjabi, Romanian, Russian, Samoan, ScotsGaelic, Serbian, Sesotho, Shona, Sindhi, Sinhala, Slovak, Slovenian, Somali, Spanish, Sundanese, Swahili, Swedish, Tajik, Tamil, Telugu, Thai, Turkish, Ukrainian, Urdu, Uzbek, Vietlabelse, Welsh, Xhosa, Yiddish, Yoruba, and Zulu.
User interface
The default location of the translate button is on the right sidebar of each block (it appears when selecting the block).
If you want to translate the whole document just open the Nelio Translate editor plugin and you'll find the translate button there.
Compatibility
Nelio Translate is compatible with all the regular blocks included in Gutenberg, the block editor of WordPress 5+. This ensures all the pages, posts, and custom post types using paragraphs, headings, images, lists, quotes, buttons, media, columns and more will be translated.
If you are using a custom set of blocks and want to make them compatible with the translation process, let us know by contacting us.
Installation
Go to Plugins > Add New.
Click Upload Plugin to display the WordPress Plugin upload field.
Click Choose File to navigate your local file directory.
Select the nelio-translate.zip you get after purchasing the plugin to upload and install.
Click Install Now to install the Nelio Translate plugin.
The resulting installation screen will list the installation as successful or note any problems during the install.
If successful, click Activate Plugin to activate it, or Return to Plugin Installer for further actions.
Note that you need to use an API Key for Google Cloud Translate in order to be able to translate blocks. Get one following instructions here. After that, you need to introduce your Google Translate API Key in Settings > Nelio Translate.
Getting help
We provide fast and competent support to our customers. When you need help or have a question, you just want the answer ASAP. You won't need to register to a 3rd party plataform, nor you'll get a ticket number as you won't need it to demand attention. A simple message from the profile page will be enough.
Supported translation services
Google Translate API: You'll need an API Key. Instructions on how to get one here