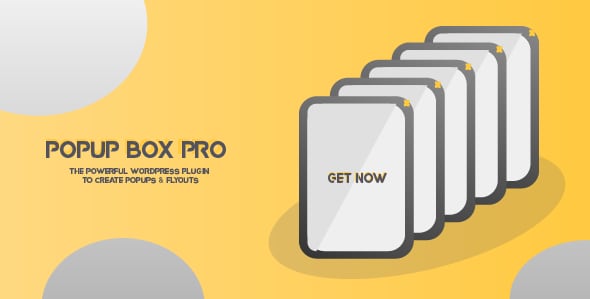 New WordPress Popup plugin for easy creating awesome popups with any content.
Popup Box for WordPress gives you the ability to easily create popups with different behaviors and designs.
Main Popup plugin features
Triggers
Add additional triggers to open a popup such as: Exit, Hover, Right Click, Select Text. Make your popups more
functional.
Forced Interaction
Disabling the close button can be used in a variety of ways, from protecting content or areas of your site to forcing
users to complete an action before continuing.
Show only once
Possibility to show the pop-up window only once for the user.
Redirect visitor on close
Defines if the visitor gets redirected to another URL after the popup gets closed.
Auto Close
This will help you lock the screen for some time so that the user can read the necessary information.
Video Support
Create the ultimate WordPress Video Popup for your marketing videos in minutes.
Iframe
Embedded any web page in popup content via shortcode.
Scheduling
Add scheduling options to your popups. With multiple schedule types, you can precisely schedule your popups in just a
few minutes.
Animation
33 different animations for show and hide popup and overlay. Make the appearance of your popup more attractive
Targeting for Users Role
Target specific sets of your users with new conditions such as User Roles & Login Checks.
Display on Taxonomy
The ability to display pop-ups only in taxonomies. Works with WooCommerce, EDD, and other plugins with taxonomy.
Multi language
The condition for display the popup depending on the language of the site. It is good to use if you have a website in
several languages and you need to show different popups for a different language.
Browsers
Ability to deactivate the display of popups in selected browsers.
Live Editor
Creating the popup style live.
Highly Customizable
Build a more powerful and influential style for your popups – add background images, add font style for popup overlay,
content and close button set different close button positions.
Devices control
You can specify for which devices to show the popup.
Specific pages
Show the popup on the specific pages.
Without jQuery
The plugin works without the jQuery library, only JavaScript.
Without Cookie
The plugin does not use cookies and complies with GDPR.
Activate/Deactivate mode
Possibility to activate and deactivate popups.
Test Mode
In the testing mode, the popup will be displayed only for the site administrator but not for users.
Changelog

= Version 1.0 =
* Initial release