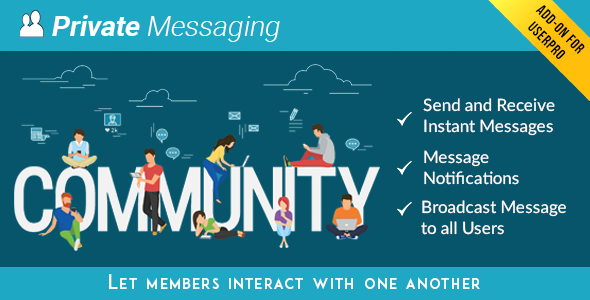 Note: This is an add-on. You must have at least UserPro v1.0.77 to use it.
Create a more connected community with Private mesaging addon for UserPro. It allows members to initiate chats and interact with each other.
Private messaging addon comes with features like emoticons, new message ajax notifications, easy converations and quick reply. Moreover, it is fully responsive and looks great across all devices and screen sizes.
  Allow Users to Send and Receive Private Messages

  Sends notifications to users when they receive a message

  Trigger messages from any custom link !

  
Ability to broadcast a message to all users.A success / failure notification is sent after the broadcast is completed.

  Administrators can restrict broadcasting by selecting which user roles have permission to broadcast

  You can add a Note that gets added to the footer of all private messages.You can use this to set up disclaimers or any other important notes. For example, "XYZ website is not responsible for all messages sent via this website by any user."

  Users can block/unblock other users from messaging
To test the chat/messaging ,please login with an account to the UserPro demo, because the messaging feature is only available for registered and logged-in users.
UPDATES

Version 4.10.0 ( 08 Jul 2022 )
============================
    - Update: Improved design corrections.

Version 4.9.3 ( 15 Apr 2022 )
============================
    - Fixed bug: Fixed scroll in message history windows.
    - Fixed bug: Fixed "Send Message" button, now showing in all roles.
    - Update: Improved administrative translations.

Version 4.9.2 ( 27 Oct 2017 )
============================
    - Urgent Fix : Fixed security issue about user auto login

Version 4.9.1 ( 15 Sept 2017 )
============================
    - Fixed Bug : Messaging UI breaks on mobile screen

Version 4.9 ( 11 Apr 2017 )
============================
    - Fixed Bug : HTML contents are not allowed in the email templates

Version 4.8 ( 09 Mar 2017 )
============================
        - Enhancement : Now administrator can decide which role should be allowed to send messages to connection
        - Enhancement : Added More emoticons

Version 4.7 ( 20 Jan 2017 )
============================
    - Fixed Bug : Scroll bar should be at bottom when setting is 'Display recent message on bottom' 
        - Fixed Bug : Broadcasted message not displayed along with personal messages
        - Fixed Bug : Message count not cleared untill browser is refreshed

Version 4.6 ( 26 Sept 2016 )
============================
    - New Feature : Added auto update

Version 4.5 ( 23 August 2016 )
============================
    - Enhancement : Added configurable option for users to send message to their connections
Version 4.4 (24 May 2016)
============================
    - Enhancement : Added a widget for sending message from frontend profile (Added Drag&Drop widget in user's Dashboard)
    - Enhancement : Added support for HTML content in messages
    - Fixed Bug   : "My Messages" popup not displayed properly in mobile devices
Version 4.3 (25 Mar 2016)
============================
    - Enhancement : Added configurable option by which administrator can decide user with which role should send and receive the messages.
    - Fix Bug     : User are able to send message from message me now button if they are blocked. 
    - Updated       : Updated Isotop version to latest.

Version 4.2 (27 Jan 2016)
============================
    - Enhancement :Added configurable option for sending new message email notification only to offline users

Version 4.1 (31 Dec 2015)
============================
    - Enhancement : Added configurable option to allow users to send broadcast message only to their followers

Version 4.0 (25 Nov 2015)
============================
    - Enhancement : Added configurable setting to enable/disable sending message on enter key

Version 3.9 (05 Nov 2015)
============================
    - Fixed Bug : Message history now shown properly in mobile view when message list shortcode is used

Version 3.8 (21 Oct 2015)
============================
    - Enhancement : Added templates for email notification

Version 3.7.1 (09 Oct 2015)
============================
    - Fixed Bug : Removed 'header already sent' warning 

Version 3.7 (09 Oct 2015)
============================
    - New Feature : Added configurable option to allow users to send messages only to their followers

Version 3.6 (01 Oct 2015)
============================
    New Feature : Now admin can set how to display recent message either top or bottom

Version 3.5 (14 Sep 2015)
============================
    - New Feature : Added admin configurable option for members messaging. Once enabled, users will send message to those user's whom they follow.

Version 3.4 (11 Aug 2015)
============================
    - New feature : Added option for users to unblock blocked users from messaging.

Version 3.3 (16 July 2015)
============================
    - New feature : Added option for users to block other users from messaging.

Version 3.2 (26 June 2015)
============================
    - New feature : Administrator can now decide which roles can use send message feature.

Version 3.1 (13 May 2015)
============================
    - New feature : Added auto update feature
    - Fixed : minor bugs

Version 3.0 (08 May 2015)
============================
    - Enhanced security

Version 2.9 (23 Mar 2015)
============================
    - Fixed : Optimized Message Broadcast Logic
    - New feature : Admin can now choose to enable or disable autrefresh of message notification. Please note - enabling auto-refresh will impact performance

Version 2.8 (09 Mar 2015)
============================
    - Fixed : Latest message will be displayed on the top

Version 2.7 (27 Feb 2015)
============================
    - Fixed : Ability to broadcast message to specific roles

Version 2.6 (20 Feb 2015)
============================
    - Fixed : Message notification needed to be refreshed , Now it will change in 10 seconds

Version 2.5 (04 Feb 2015)
============================
    - New feature : Added shortcode [userpro_message_list] to allow a logged-in user to view all of his/her messages on a post or page

Version 2.4.1 (16 Jan 2015)
============================
    - Fixed Bug: Disclaimer Note that gets added to all private messages.
    - New feature : After broadcasting a message, the sender receives an email about success / failure.

Version 2.4 (22 Dec 2014)
============================
    - New feature : Added ability to broadcast a message to all registered users. Admins can restrict this by selecting which user roles have permission to broadcast

Version 2.3 (21 Nov 2014)
============================
    - Added Spanish language

Version 2.2 (06 Nov 2014)
============================
    - Fixed XSS cross scripting vulnerability.
    - Fixed message alignment issue

Version 2.1 (09 Oct 2014)
============================
    - Added option for admin default message
=============================
Version 2.0 (29 Sep 2014)
============================
    - Fixed issue with message history

Version 1.1 (7 Aug 2014)
============================

    - Added shortcode for My Messages [userpro_mymessage]

Version 1.0 (21 Mar 2014)
============================

    - Base version