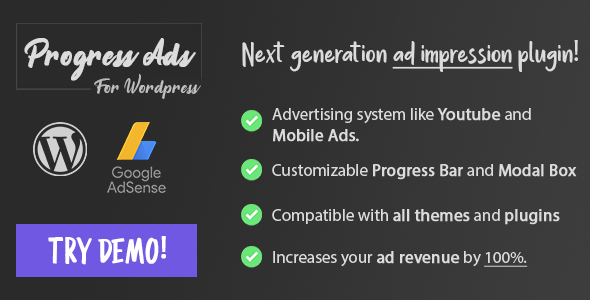 Youtube and Mobile App style ad display format now on WordPress! With the WordPress Progress Ads plugin, you can increase your earnings easily while showing ads to your users. With the easy editor, you can show your Adsense ads, youtube videos, shortcodes and more to your users.
FEATURES
Progress Bar – You can shape your website as you like with different progress bars.
Mobile Options (new) – You can make custom settings for mobile users.
Ad Trigger Type (new) – You can start showing ads according to your visitor's scroll position or countdown method.
Modal Box – You can display ads, contact forms, mail forms and custom codes… The rich text editor is compatible with content such as shortcodes, html codes and videos.
Ad Waiting Time – As with YouTube, we have to wait until the ad finishes. How about adding this feature to your site? During the time you set up, your visitors will see ads and when finished, they can access your site by skipping the ad.
Ad Display Frequency – With the ad display frequency, a visitor who sees ads on your site will no longer see ads for the time you set. For example, a visitor will not see any modal boxes (ads) for 30 minutes after seeing the ad.
Post Types Feature – This feature recognizes all post types available on your website. You can activate or deactivate the plugin in the post type you want. This feature works with all plugins. Example: WooCommerce product pages, BBPress forums or other all plugins.
Deactivate Ads for Logged-in Users – With this feature, you can turn off ads for logged-in users. You can increase the number of members!
Professional WordPress Editor – You can edit your ad space as you like with the WordPress editor. The editor is fully compatible with other plugins. You can add shortcodes and HTML codes. It is also fully compatible with Adsense Shortcodes and its variants.
Shortcodes – It is 100% compatible with shortcodes. You can add any shortcode to the ad space.
Compatible with all plugins and themes – This plugin is compatible with all plugins and themes. You can use it as you like!
only Javascript – This plugin is coded with pure javascript. With this feature, your site will not slow down and works fast!
Styles – With the style settings in the plugin, you can change progress bar color, style and height; modal box (ad popup) background color, area, button color and text.
Languages (WPML and PoEdit) – You can easily translate this plugin into any language.
Changelog

* 1.3.2 - 22.11.2019 (IMPORTANT UPDATE)
+ All issues fixed

* 1.3.1 - 21.11.2019
+ AdSense issues fixed

* 1.3.0 - 06.11.2019
+ Added: Mobile Options
+ Updated / Added: Ad Trigger Type (Countdown or Modal Place)
+ Fixed: Some bugs

* 1.0.0 - Released