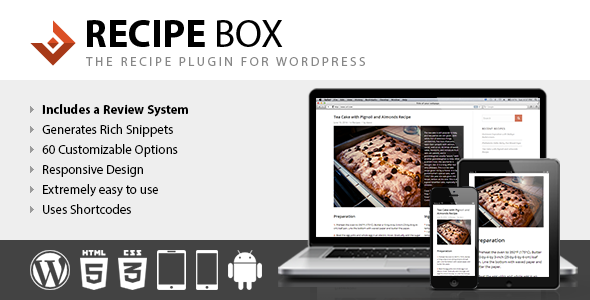 Create recipes in your WordPress posts, pages and custom post types with this new responsive and easy to use plugin.
Recipe Box in action
Some examples of what you will be able to create with Recipe Box:
Tea Cake with Pignoli and Almonds Recipe
Prehistoric Celtic Berry Nut Bread Cups
Guinness Cupcakes with Baileys Buttercream
Video Tutorials
Learn how to use Recipe Box:
Create a simple recipe
The review system
Overview of the options
Test the rich snippets
Create a recipe
Recipe Box adds a meta box in your posts with the following fields:
Recipe Description
Recipe Image
Recipe Instruction
Ingredients
Prep Time ( optional )
Cook Time ( optional )
Total Time ( optional )
Recipe Category ( optional )
Recipe Cuisine ( optional )
Recipe Yield ( optional )
Cooking Method ( optional )
Simply fill in these fields and include the [recipe-box] shortcode in the post content.
A review system for your recipes
Your users will be able to review your recipes with a review system implemented with AJAX, the average rating will be included in the recipe Microdata, this means that the rating will be visible in the search engines.
Rich Snippets
This plugin automatically generates the rich snippets related to your recipes, technically the semantic format used is the Microdata Format, and the properties generated are the properties from the Recipe Schema.
All the best recipe website make use of Rich Snippets ( for example AllRecipes, Food Network, Food ), the advantage of using Rich Snippets is an increased exposure of your content in the search engines.
For more information about the Rich Snippets check out the following resources:
You can test the rich snippets generated by this plugin with the Structured Data Testing Tool provided by Google, check out the Test the rich snippets video to understand how to use this tool. ( in this video i tested one recipe included in the Recipe Box demo )
60 Customizable Options
The options menu available in the back-end allows you to change the colors, the typography, the responsive capabilities, the labels and the plugin behavior.
Responsive and Retina Ready
The layout of the recipes generated by this plugin is responsive and retina ready and looks great with high and low resolution phones, high and low resolution tablets, standard definition monitors and ultra HD monitors.
Updates

28.08.2020 - v1.06
  - Removed deprecated jQuery methods
  - Fixed PHP notices
  - Default Google Fonts URL updated
07.07.2018 - v1.05
  - Fixed PHP notices
22.01.2015 - v1.04
  - Minor bug fix
30.07.2014 - v1.03
  - New star icon added
21.06.2014 - v1.02
  - Initial release

Do you care about your website's SEO?
Improve your internal links structure and get more visits on your WordPress website with the Interlinks Manager plugin.