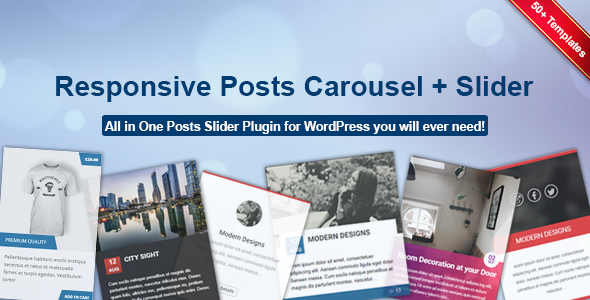 Responsive Posts Carousel is a lightweight and powerful WordPress Plugin that lets you display Posts, Gallery Images, WooCommerce Products, and all other custom post types in a touch-enabled carousel/slider. You can choose from 50+ ready to use templates and can customize them as per your need using the Live Template Editor. There are a bunch of settings and options available to create your awesome post slider in just minutes. You can create almost all types of sliders including ShowCase, Vertical Slider, Multi-Row Slider, etc. The number of columns for sliders can be defined separately for each device (Desktop, Tablet, and Mobile) and Equal Height mode makes your slides more beautiful and symmetrical. The custom image size can also be selected to increase page load speed and the lazyload option lets you display your slider as the page loads.
The Post selection criteria are also flexible and you can display your posts/cpts by IDs, type, date, author, status, taxonomy, term, and even by custom meta. Custom ordering lets you manage and sort your slides as per your needs. Placeholder Image can be used for those posts which don't have a Featured Image. Specific posts can also be excluded from the selected criteria.
You can display a custom meta of posts/cpts in the slider. Advanced Custom Fields are also supported. All templates can be overridden to make changes in them by copying them in the Theme's/Child Theme's directory, just like WordPress's other template files. Page Builders are also supported to display the actual content rather than printing the actual shortcodes.
AJAX-based popup (lightbox) enables you to quickly view the whole post right above the slider, without actually going to the post details page.
Features
50+ Templates: Yes, there are 50+ unique and modern tempates available to choose from.
Easy Selection: Simple post selection. You can choose by post IDs, taxonomies or terms.
Responsive: Its fully responsive and scales with its container.
Social Sharing: 15+ Social Networks to choose from, to display their buttons on templates.
AJAX Popup: Post Popup is also available and popup template can be loaded from the theme for customizations.
Custom Meta: Display custom meta for title and description.
RTL Mode: Right to Left mode can also be turned on.
WooCommerce: Supported with WooCommerce, provide meta key woo_price to display formatted price of product.
RWD: Different layout settings for Mobile, Tablet and Desktop views.
Vertical Mode: Vertical slide mode is also available to display in the sidebars.
Custom Easing: 24 Animations available to choose for slide transition.
Custom Image Sizes: You can load any size of Featured Image registered by your theme.
Placeholder: Set a default image for those posts which don't have any featured image.
Grid Mode: You can also display multiple rows of posts in a single slider.
Lazy Loading: Lazy loading for large images.
Infinite: Infinite looping and center mode.
Equal Height Mode: Fix images height without stretching them to make all templates same in size.
Child Theme Support: Load templates from your theme if you want to make changes in them.
CPT Support: All custom post types are supported including testimonials, portfolios etc.
ACF Support: Supported with Advanced Custom Fields to display custom meta values in templates.
Custom Ordering: Sort your carousel items by date, IDs, titles or any custom meta order.
Accessibility: Swipe to slide and desktop mouse dragging support.
Navigation: Arrows and bottom navigation indicator dots.
Arrow Styles: 10 arrow styles and custom settings to customize them.
Auto Play: Auto Play with custom slide duration and custom speed.
Changelog
14.0 – 23 June 2021

* Feature Added: New UI
* Bug Fixed: Errors related to JS

13.7 – 3 April 2020

* Feature Added: Popup support - Option to open posts in a ajax based lightbox
* Feature Added: Elementor Builder support for the contents
* Bug Fixed: Color picker not appearing correctly for some themes
* POT updated

13.6 – 27 October 19

* Feature Added: Drag post titles to sort as per your need
* Bug Fixed: Number of posts to slide is not working as per settings

13.5 – 15 September 19

* Feature Added: Attachments support added
* Feature Added: 4 Template Styles added for WooCommerce Products 
* Feature Added: 1 New Arrow position added 
* Feature Added: Setting to change bottom navigation dots color 
* Feature Added: Center Mode large size of focused post
* Feature Added: CSS Optimized and unused code removed 
* Bug Fixed: Vertical Slider cut off
* Bug Fixed: Conflict with some theme's scripts/styles
* POT updated

13.4 – 25 May 19

Feature Added: Same Height option for all slides
Feature Added: Multisite Support
Bug Fixed - Headings Capitalization is fixed
Bug Fixed - Template 47 separator color not changing
rpc_query_args filter adds carousel ID as a filter argument

13.3 – 17 April 19

Feature Added: Smooth Scrolling (linear easing option)
Feature Added: A New Template (Style 47)
Feature Added: Custom Arrow Positions
Feature Added: RTL Mode
Feature Added: Full-Width Mode
Feature Added: Load custom.js script file from theme/child theme (pasting it inside rpc directory)
Feature Added: Adaptive Height
Feature Added: Append to Trimmed Text option (append custom text with the trimmed one)
Feature Added: Shortcodes/Page Builders support
Feature Added: Allow users to drag or swipe directly to a slide
Feature Added: Query params supported in the shortcode (read the docs for more details)
Bug Fixed: Arrows are not symmetrical
Bug Fixed: More than 1000 posts break the edit carousel screen is fixed
Bug Fixed: Initial slide causing unexpected behavior (empty slides etc)

13.2 – 8 March 19

Bug Fixed - Template not loading from Child Themes
Bug Fixed - Template 35 color and background conflict

13.1 – 5 March 19

Feature Added - Vertical Slider Mode
Feature Added - Pause on Hover option added
Feature Added - Infinite Looping
Feature Added - Center Mode
Feature Added - Custom Initial Slide
Feature Added - 24+ Easing Animation Options for Sliding
Feature Added - Lazy Loading of images for better performance

13.0 – 4 March 19

Initial Release