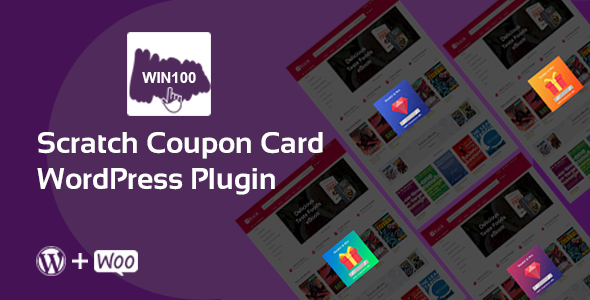 Introduction
It is fun to win cashback or offers using the scratch cards. Exciting offers, cash-back, contests, lottery offers and many other displays using popup scratch cards are the most convenient option for all customers and buyers. Customers are excited to see what offers they get by scratch coupon cards. Ecommerce customers are use trend of scratch cards offers, so we introduce a scratch coupon card plugin for woo-commerce websites.
Scratch Coupon Card plugin helps to display the WooCommerce coupon code in the popup window. Customers can scratch the coupon card to win tempting discounts. When the customer scratches the card they get a promo code set by the admin. This promo code is copied by the customer and use at the checkout process to get offers. The store admin will decide on which page he wants to display a scratch coupon card. Admin can set cookie time to display scratch coupon cards for the next time. Also, admin can change text, image icon and select any specific promo codes from the backend as per website requirement. This plugin is highly customizable to change multiple cover images.
Scratch Coupon Card plugin has multiple features like easy and quick installation from the admin. This plugin is a responsive layout, so the customer can see it in multiple mobiles, tablet devices. Scratch Coupon Card plugin is compatible with all woo-commerce theme.
Scratch Coupon Card plugin helps to increase website usability by engaged customers to the store. This plugin helps to increase site traffic, website functionality. This plugin plays a determinant role to increase your product sale and business compare to your rivals. It attracts visitors coming to the site and converts them into satisfied buying customers by providing a scratch coupon card discount.
Features
Display scratch coupon card in the popup window
Customers can scratch coupon card to win tempting discounts and get using promo code
Customer can copy promo code and use at checkout process
Change text, image icon and select any specific promo codes from the backend
Set scratch coupon code at any selected pages
Admin can set cookie time to display scratch coupon cards
Set multiple cover images from the backend
Increase website use usability by engaged customers to the store
Increase site traffic, website functionality
Attracts visitors coming to the site and converts them into satisfied buying customers by providing a scratch coupon card discount
Demo:
Fronted Demo Link:
http://lavdemo.cssfloat.net/d1w1/shop/
Support:
send request on : info@cynoinfotech.com
Support Link: support
Frontend view of Scratch Coupon Card Plugin: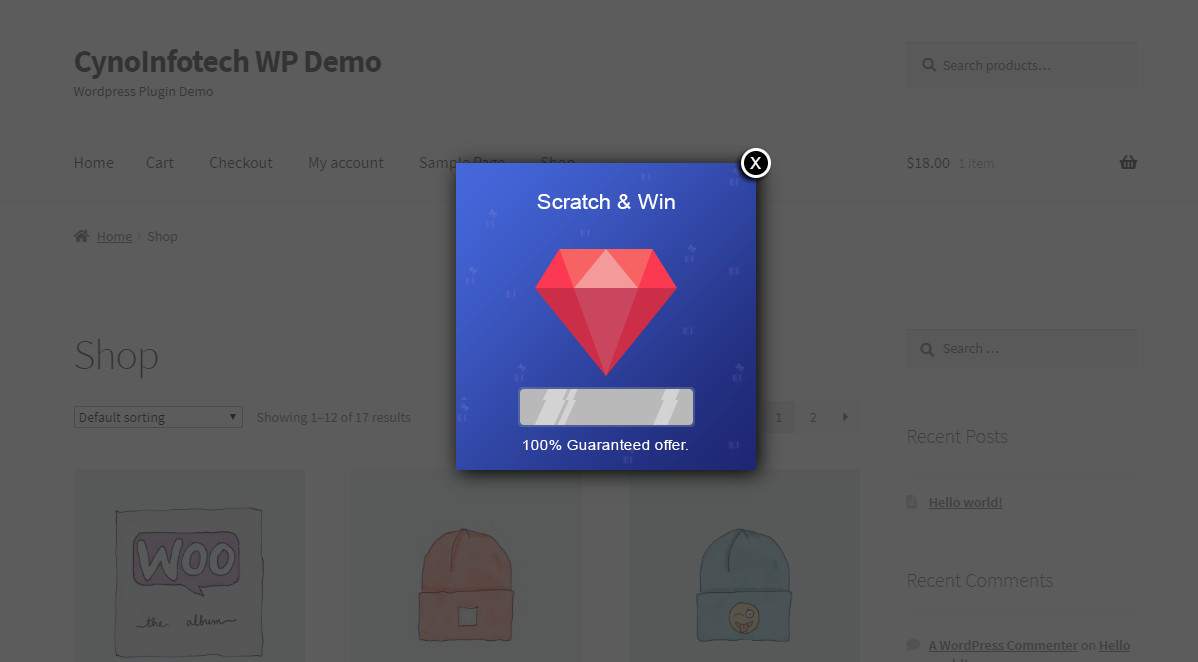 Version:
Version 1.1.0 – 04-08-2022

Added:
    - Added new option "Order Received Page"(Thank you page) to "Scratch Coupon Card pop up Display On" 
Improved: 
    - Design improvement 
Fixed: 
    - Minor bug fixes 

Version 1.0.0 – init