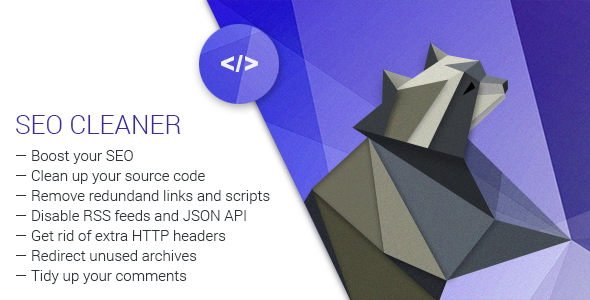 We all like to give our guests a warm welcome and present a clean, shining home. So when Google comes to visit your website, we can get all the trash out of the way for you.
Each redundant part of your website can pull your search engine score down and potentially harm your site's visibility in search engines. We want to make sure it doesn't.
SEO Cleaner will get rid of all the automatic WordPress clutter for you in a few clicks.
What will SEO Cleaner give you?
Better SEO ranking
Clean markup
No content duplication
Freedom from useless features
Here's what you can effortlessly remove with SEO Cleaner:
Unused meta tags
Links, scripts and styles in your head section
Redundant server response HTTP headers
Any extra features you don't use
Clean Up the Head Section
Remove WordPress Generator Version
Remove WLW Manifest Link
Remove RSD Link (EditURI Link)
Remove Shortlink
Remove Prev/Next Links
Remove Hardcoded Styles for Recent Comments
Remove Emoji Styles and Scripts
Remove DNS Prefetch Link
Remove wp-embed and jquery-migrate Scripts
Clean Up the RSS Feeds
Clean up your head from the feed links and redirect them to the home page.
Clean Up the Comments
Remove the website field
Remove the notice text before the comment form
Remove the hyperlinks from the comment author's name
Disable auto linking
Clean Up the HTTP Responses
Remove Shortlink from HTTP Headers
Remove X-Pingback from HTTP Headers
Remove X-Powered-By from HTTP Headers
Clean Up the WP JSON API
Remove WP API Links and Scripts
Remove WP API Link from HTTP Headers
Totally Disable WP API Feature
Redirect Unused Archives and Attachments
With SEO Cleaner, you can avoid content duplication and indexing of attachment pages and unused archives.
You can easily redirect the archives to the home page and the attachments to the parent post pages.
Plugin Updates

2019-05-21 - ver 1.4.4
Fixed: Dashicons.

2019-04-22 - ver 1.4.3
New: option to turn off Dashicons;

2019-04-22 - ver 1.4.2
Fixed: php errors; 

2018-08-09 - ver 1.4.1
    - Small code improvements

2016-05-06 - ver 1.4
    - New feature - remove wp-embed.min.js script
    - New feature - remove jquery-migrate.min.js script

2016-11-22 - ver 1.3
    - New requested feature - remove "meta name=generator content=Powered by Slider Revolution..." 

2016-10-26 - ver 1.2
    - Small code improvements
    - New requested feature - remove "meta name=generator content=Powered by Visual Composer..." 

2016-10-11 - ver 1.1
    - Added new feature "Remove DNS Prefetch Link" 

2016-04-20 - ver 1.0
    - Initial release