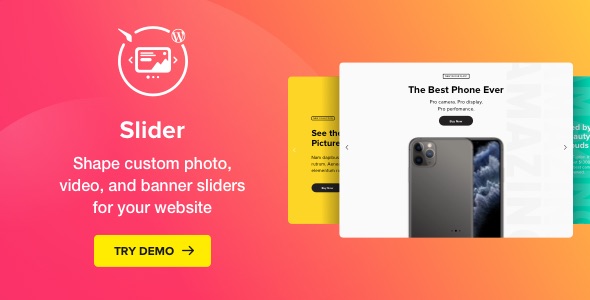 Elfsight Slider WordPress is a perfectly easy and rich in option plugin for creating various banners, containing texts and buttons for your website. You can embed a simple photo slider by uploading images, create an image carousel or add videos that will play right there.
Announce your sales and discounts, highlight the top projects or products, tell about your company and fulfill more business tasks with the best photo slider for WordPress. 
Have a look at the greatest choice of the main photo slider features!
List of features of the Elfsight Slider for WordPress
Unlimited number of slides;
Add images by URL or download them directly from your device;
Interactive customizable elements like CTA-buttons, badges, texts and titles;
Adjustable slide switching duration and swipe navigation; 
Pagination (markers, strokes, thumbnails, numbers);
Overlaying content slide by slide;
5 layouts to organize slide elements for any website task;
Animation effects and all other features are supported on all devices.
Want to see Slider plugin WordPress?
To see how well Elfsight Photo Slider works, run our demo right now.
Design and create your own high conversion Image Slider. If you don't want to rack your brain setting and adjusting the plugin, choose our working solution that's worth its price.


Functionality and UI that matters
Are you looking for a fully customizable WP carousel slider? We offer a plugin that helps you to advertise your sales and special offers, announce forthcoming events, highlight top products, tell about your company via photo or video slides, show the steps of product use, and more.
Using several functional elements of the Elfsight Slider plugin you can simultaneously provide greater usability and customization. Numerous styling options, premade layouts, navigation and slide settings – all at once to create a unique gallery slider.
Demonstrate your best photos and videos with an interactive and engaging image plugin. Place the slider plugin code wherever you need it on the site – the tool will perfectly adapt to any space requirements you have. Fully-responsiveness for any user devices or browsers.  
Check out more Elfsight Slider to improve your website functionality
We advise combining diverse plugin for the best performance of your business, because what could be easier to improve engagement and user experience! In a few clicks, add several essential plugins and check the result. Here are the most popular apps rated by our users: 
All kinds of fill-in forms (contact, booking and etc.) for your website
Create enticing Instagram Feed to increase visitor engagement
Drive your sales and get new subscribers with an interactive PopUp banner
How to add Slider in WordPress
You will find it easy to install the plugin on your website. All you need is to perform these instructions:
Following the plugin purchase, download its zip file.
Upload the setup zip file to your website. IMPORTANT! At this stage, be sure that you upload not the whole plugin zip, but just WordPress installable zip.
Open the main website menu and go to the plugin settings page. Generate your Slider and personalize its interface in the Live Plugin Editor. Once the plugin is fully shaped, you will receive your individual slider plugin code. Make sure to copy it.
Insert the shortcode of your new plugin into the page of your site where you would like to see it published.
You're done! From now on, the Elfsight Slider Plugin is well working on your website!
Still haven't tested our plugin live? Check it right now on the WordPress Slider page!
FAQs
Q: What types of content are supported in the Slider plugin for WordPress?
A: Elfsight Slider supports the most popular kinds of sliders to enrich your website content: with photos, videos, text or banners.
Q: Can I create a photo carousel with an autoplay on my site?
A: Our slider includes the Auto Slide option, which makes your slider move automatically. You can also activate the Infinite Loop option, and the slideshow will play endlessly one by one.
Q: What is the best option to display the image slider on my website?
A: Place the slider plugin according to your essential needs. The plugin has adaptable layouts, so you can place it anywhere on your website. For example, to highlight the product's features and increase sales, insert it on the product page.
Q: Can I edit/delete/add slides after the plugin integration?
A: Sure, you can provide any updates needed whenever you want. In case you'd like to add more slides or change them, go to the plugin admin panel. Apply all the changes, click the save button and they will be immediately applied to your website.
Change Log – new version 1.1.0 is available for download
December 25, 2020 – Version 1.1.0
### Added
 * Option to open links in a new tab

### Fixed
 * Slide clickable area issue
 * WordPress 5.6 compatibility issue
May 12, 2020 – Version 1.0.1
### Fixed
 * Fix images upload issue
 * Fix Greensock conflict
 * Fix slide with bottom text display issue on mobile devices