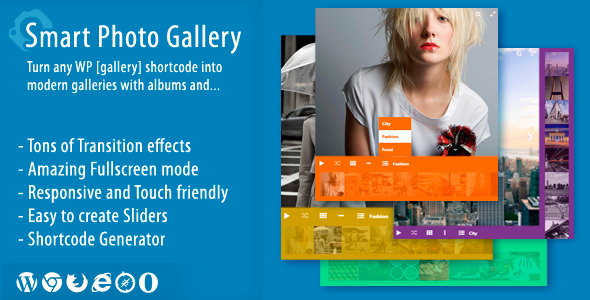 Turn native WordPress
into Smart Photo Galleries with albums, fullscreen mode and 3D transition effects. Unlimited scalability, compatible with all major browsers, responsive, retina and touch friendly. Use latest technologies like CSS3 and Vector Icons. Perfect to showcase photographers work.
Photo Gallery Features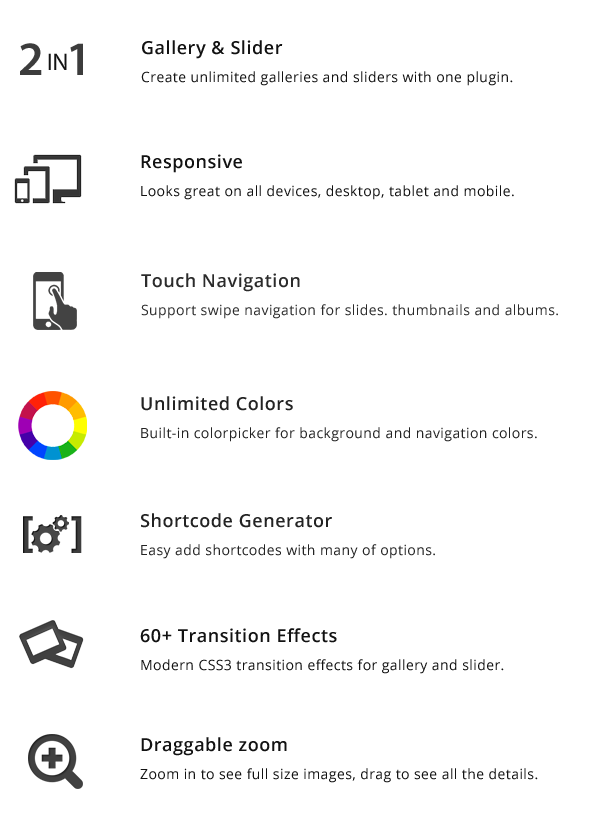 Features List
Use Native WordPress

Shortcode
Built-in Shortcode Generator
Amazing Fullscreen Mode
Draggable Zoom Feature
Responsive Slider Mode (see demo)
Easy Gallery Albums
Fully Responsive Layout
CSS3 Transition Effects
FontAwesome Vector Icons
Support Touch Devices Like iPhone/iPad or Android
Retina Friendly
Highly Customizable
Detailed Documentation
Template Tag to Use in your WordPress Theme
WordPress Gallery Shortcode
Simply wrap any existing
shortcode tag with [smart-photo] shortcode open and close tags to bring awesomness to your WordPress Galleries.
[smart-photo]




			


		




[/smart-photo]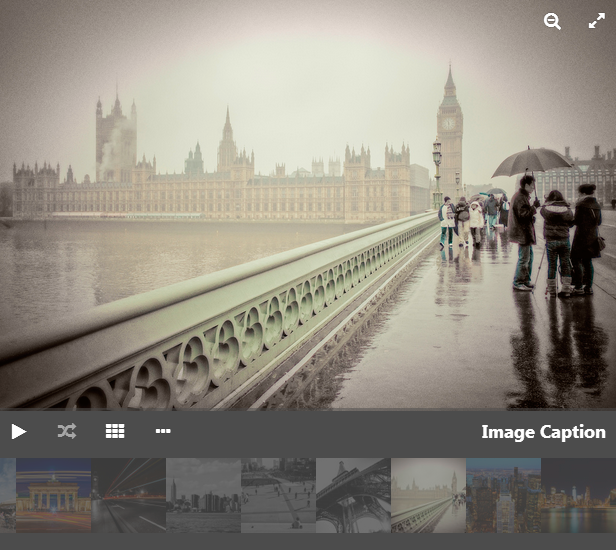 Easy Gallery Albums
Create UNLIMITED number of albums inside any Smart Photo Gallery. Simply add as many
shortcodes as you need inside [smart-photo] to create new albums. Use "name" attribute to set each album's name.
[smart-photo]




			


		






[/smart-photo]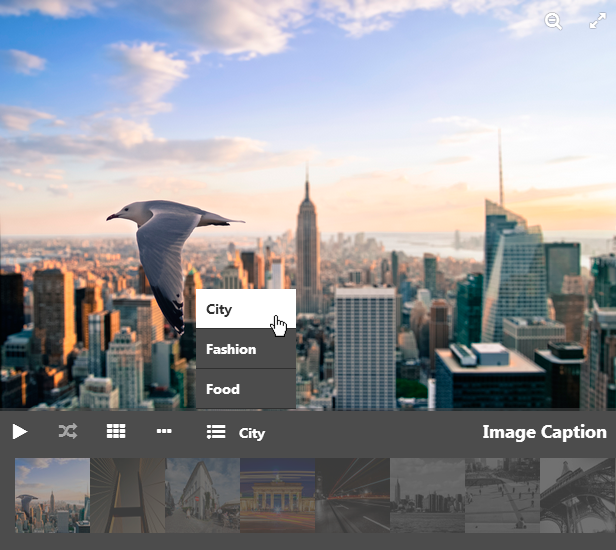 Responsive WordPress Slider
Turn any WordPress
into amazing responsive slider with tons of CSS3 transitions.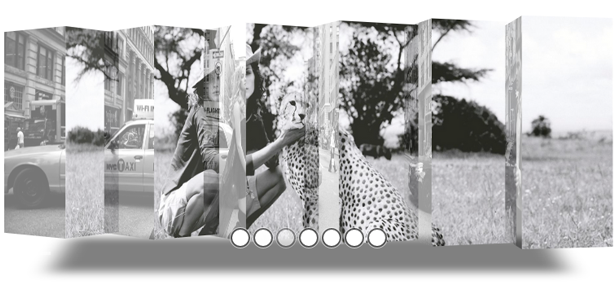 Customers Reviews

Worth every penny… The best support I've ever had on this platform. I give 5 stars and recommend it, just do not give 6 stars for is not possible. The gallery is amazing, I highly recommend if you are looking for a sensational gallery.

– dj_tequilla

Sometimes people do need simple but functional image viewer for their website.
This gallery is the one I needed because:
– it manages the photos through the

– main wordpress gallery;
– simple, yet beautiful/funcitonal image viewr – large image + thumbs. It has everything one might need, in general.
– settings are easily set through a pop-up window that generates the shortcode needed;
– great, fast and polite support.

– tangratannakra

topdevs really came through for me. I needed an image gallery just like their Smart Photo Gallery but it didn't have a PHP template tag. I asked them about it in the comments and within 24 hours they released a new version with a template tag that did exactly what I was asking about. IMPRESSIVE! The plugin is feature rich ad well documented. Five stars all the way!

– stephenwayne

The photo galleries on my WordPress blog are generated with Smart Photo Gallery. This plugin was reasonably straightforward to install and setup. With all such plugins there is a learning curve, in this case it was very manageable.

I had tried some free gallery plugins, and just wasn't getting a look and feel that I liked. Since my blog is primarily about visual media, there was a good case for buying a premium module compared to using the free plugins. When trying to deliver a high quality product, it makes sense to use the highest quality code and design you can get.

I like the way it looks and works, and it delivers good results on retina devices and other mobile devices.

– MeanGene2
Support
Feel free to send e-mail to support@topdevs.net if you have any questions.
Updates

13 February 2018 - ver 1.4.3
   - PHP7 support added
   - WordPress adminbar and gallery fullscreen mode conflict fixed

01 November 2016 - ver 1.4.2
   - mobile height option added

08 December 2015 - ver 1.4.1
   - jGallery script updated to latest

21 January 2015 - ver 1.4
   - Totally new separate shortcodes generator for Gallery and Slider
   - Long image captions support added, support for slider images caption added
   - Hover icon tooltips added
   - Random transition option added. Option to set backward transition added (default is automatically opposite to forward)
   - CSS and JS fixes

26 Juny 2014 - ver 1.3.1
   - Option to hide resize and expand icons added

17 Juny 2014 - ver 1.3
   - FontAwesome updated to latest
   - Option to disable FontAwesome if used in a theme added

05 June 2014 - ver 1.2
   - Template tag to use in theme templates added

29 May 2014 - ver 1.1
   - Minor bug fixes

Credits