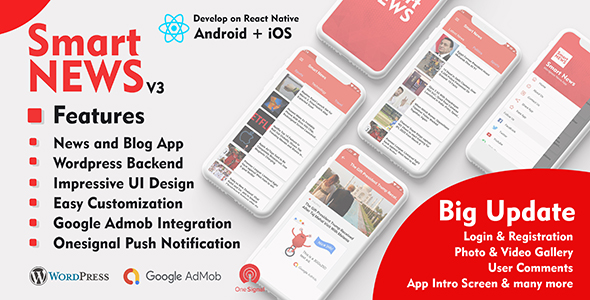 Smart News app is a react native app and working with WordPress backend. It has a awsome user interface and user experience.
You will get Android and iOS apps in this react native combo apps. We have used official WordPress Rest API for sync data between apps.
Why it's great?
News and Blog App
WordPress Backend
Convert Website to App
Login & Signup
View Profile & Edit profile
News Feed by Category
User Comments
Bookmark
Youtube video Gallery
Photo Gallery
Search News
Easy Customization
Awesome UI/UX Design
Onesignal Push Notification
Admob Ready
No Programing Needed
Download Demo App:
WordPress website:
https://smartnews.codezstack.com
Documentation:
Support:
Email : mustafijur.r@gmail.com
Customization:
Don't know how to setup React Native Apps? don't worry, we'll do it for you. Installation and setup cost is just 100USD for both Android and iOS apps.
Credits:
WordPress Logo
React Native Logo
Flaticons
Google Images
Google Fonts
Native Base
Change Logs
Version 3.0

- App intro feature added
- Bug fixed

Version 2.0
23 April 2020: 
Added Features are : 
-Login & Signup
-View Profile & Edit profile
-News Feed by Category
-User Comments
-Bookmark
-Youtube video Gallery
-Photo Gallery
-Search News

Version 1.0
28 February 2020: initial version