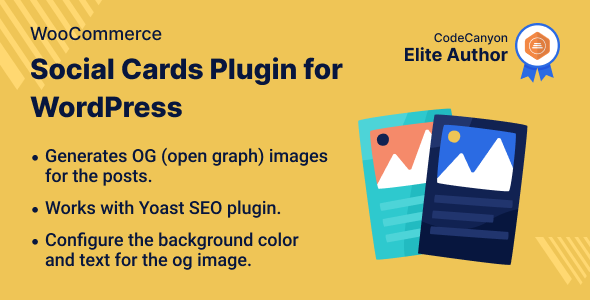 WordPress Social Cards
Now, get rid of manually creating and searching images for your posts. This plugin dynamically generates Twitter Card Images and Facebook's OG [open graph] Images for your posts.
The shared images over Facebook and Twitter will attract users' attention to your post with the content and the design of the social card generated by our plugin.
So, whenever your post is shared, social cards will have a proper post image to show the objective of your post which eventually attracts more users to your posts.
Video Preview
Why WordPress Social Cards?
Support
Dear Customers, if you have a question/query, please raise a ticket at webkul.uvdesk.com. We will do our best to answer as quickly as it is possible. Kindly do not give us a low rating without contacting support on the issue you've faced. We are always happy to help you.
Features of WordPress Social Cards
The plugin generates OG (open graph) images for the posts which user wants to share on their Facebook or Twitter account.
Works with Yoast SEO plugin.
The admin can configure the background color and text for the og(open graph) image generated by the plugin.
The admin can view the sample of the generated image to be used as the social card for their posts.
Multiple post-sharing feature is there in the plugin.
Highlighted Features
1 – Auto Generate Social Cards
The admin using a button click can auto-generate the social cards for the created post for sharing on the social sites.
2 – Social Card Appearance
Before sharing the social cards on social sites, the admin can easily configure the card appearance using the available options.
3 – Generate Multiple Social Cards
For each post created in default WordPress, the admin can generate social cards for those posts as required.
4 – View Preview Before Posting
The admin can see a preview of how a social card will appear before posting it on social sites.
Business Use
Social cards are snippets of the information displayed on social media platforms when a link is shared. They help by providing a preview of the content that is being shared, allowing users to quickly assess whether they want to click on the link to learn more.
By providing a visually appealing and informative preview, social cards can increase the visibility and click-through rates of the linked content, thereby helping to drive traffic and engagement.
Using social cards can help you increase the visibility and reach of your content on social media, improve user experience, and enhance your brand representation and SEO.
ChangeLog
"Initial release v 1.0.0" "Current release v 2.0.0" 
v 2.0.0

Added: Added social cards separate menu.
Added: Added multiple posts sharing functionality.
Fixed: phpcs issue.
Enhancement: Code structure according php and wp Coding standards.
Introduce a wkog_image_text hook, which can modify the image content.


v 1.1.0
Latest post will be used as a social card preview
Facebook & Twitter share buttons for latest post added.

v 1.0.0
Initial release