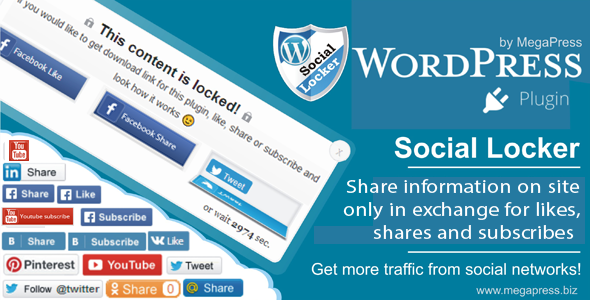 Social Locker – plugin for WordPress – New Edition!

Let see how it works via Live Preview and you will understand why you need this plugin so much!

This plugin help to get more followers, shares and likes from your website!
How it works: This plugin hides part of any content (useful information/video/links etc.) until your visitors likes, reposts, share, subscribe etc.
This Social Locker plugin provides buttons of most popular social networks: Facebook, Twitter, LinkedIn, YouTube, Pinterest, vk, etc.
See how it works via Live Preview!
Some examples of the ways you can use this plugin:
1. Video (youtube iframe)
You can hide any video on the website until your visitors subscribe to YouTube channel for example.
2. Promo codes or coupons
Reward your visitors who share, like or follow your website by offering a promo code. Buyers get a discount, you get a new visitors from social networks.
3. Download link
Ask visitors for a like, share etc. to get a Download link!
4. Lock tips and "secrets"
Write useful tips or some your secrets or publish an interesting story and lock it some partly via this plugin "Social Locker".
You can choose a social locker theme in this plugin options/settings (screenshots below).
This plugin "Social Locker" provides you with advanced features to customize any aspect of your lockers.
The Social Locker has a lot of usefull options!

Social buttons set. Social Networks for social locker by MegaPress

Styles & Effects for Social Locker

Options for Social Locker