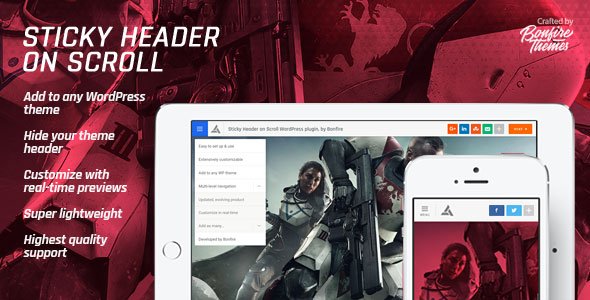 Sticky Header on Scroll is a super easy way to add a scroll-then-fix header to your WordPress website. Having an animated fixed header after scrolling down is becoming a wildly popular navigation method and now you can add one to your site without having to switch themes or alter your current theme in any way.
Simply install the plugin and your WordPress site will immediately have a fixed sticky header when scrolling, complete with menu and logo positions, share buttons on posts etc.
Sticky Header on Scroll is fully responsive, ensuring a comfortable browsing experience on all devices and screen sizes. And thanks to the flexibility of the included customization options, you can make sure the sticky header fits well into any theme.
Please be sure to visit the demo site here to see a live example of Sticky Header on Scroll.
Features
Header:

Appears after user scrolls down
Alternative 'Slim' design
Customize header height
Customize appearance distance
Add background image (pattern or full size, set custom opacity)
Change background color
Change background opacity

Dropdown menu:

Add custom button label (optional)
Multi-level navigation
Customize width/height of dropdown
Optional 'pretty scrollbar'
Customize all colors
Optionally hide

Logo:

Display as text or upload logo image
Customize logo size
Customize all colors
Optionally hide

Post title display:

Customize all colors
Displayed on blog posts
Enter custom prefix (or have none at all)
Optionally hide

Share buttons:
'Next post' button:

Customize all colors
Displayed on blog posts
Optionally hide

Misc:

Optionally display the floating header at specified resolutions only (useful if you'd like to show it desktop but hide on mobile)
Hide your existing theme header by class/ID
Live Customizer integration (make changes and preview them in real-time)
Fully responsive from desktop all the way down to mobile screens
Clean and well-marked code
Thoroughly tried and tested across a range of devices
Proven author with fast and friendly support
Lifetime free updates
Jargon-free documentation
Changelog

Quick update (no version change)
- Some JS script and translation string updates


UPDATE 1.3
- Redesigned dropdown menu (now multi-level)
- Added custom/height settings for dropdown menu
- Dropdown menu now has optional 'pretty scrollbar'


UPDATE 1.2
- Added more social sharing options (next to Facebook and Twitter, there are now also the Google+, LinkedIn, StumbleUpon, and e-mail options)
- Added option to hide share buttons
- Changed dropdown menu's default appearance


UPDATE 1.1
- Added option to hide theme header (or any other element for that matter) by class/ID
- Added option to customize header height
- Added slim design option
- Added option to add a background image to header
--- display as pattern or full size
--- control image opacity
- Added option to customize the label above the post title display or not show it at all

Please also consider our MEGA Bundle: