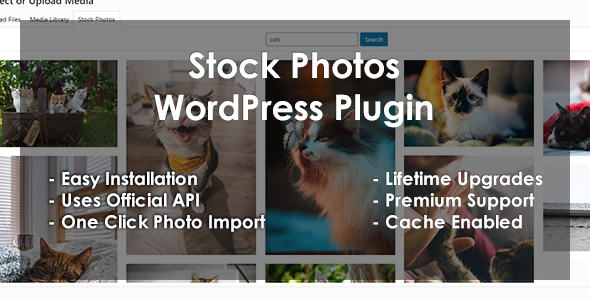 How often do you use stock photos in your WordPress powered website and have to open tonnes of browser tabs to view them, download and save them for future uses. With beautiful posts, you often require matching pictures to give visual meaning to your article. With Stock Photos for WordPress, you will have hundreds of thousands of royalty free high quality stock photos contributed by thousands of creative photographers on your fingertips and few clicks away.
Stocks Photos for WordPress is premium WordPress plugin that provides easy to use tool to search, browse and import thousands of free stock photos to use in your WordPress website right from WordPress built-in media browser.
Stock photos collection are powered by using official API of popular free stock photo websites like Unsplash, pexels and pixabay.
With this plugin, you no longer have to spend hours searching for free stock photos that suits your projects, downloading it then re-uploading it to your website which you could spend writing creative articles.
Features:
Easy Installation
Video guide for every supported sources to setup with required credentials.
Caching of every API request is done to save server resources.
Limit maximum image size through plugin settings.
Enable/Disable auto image attribution to photographer from plugin settings while importing image.
Enable/Disable photo website source that you don't want to use.
Uses Official API
Lifetime Updates to new version of plugin.
Are the photos imported by plugin free to use?
Yes. Absolutely. The imported photos are submitted to sources like unsplash, pixabay, pexels by photographers for free to use by anybody. You can attribute the photographer and that optional but encouraged. You can enable/disable auto photo attribution to photographers as image captions from plugin settings.
Where do the stock photos come from?
Right now the photos are searched, listed and imported from unsplash.com, pixabay.com and pexels.com right now using their official API. We will add more sources soon. You can enable/disable certain source from plugin settings page.
You know a good free stock photo website this plugin doesn't support?
Let us know using contact form from our profile page. If the website has official API then we will make sure to add that website on next release.
Have questions? Feel free to contact us from our profile 

Source