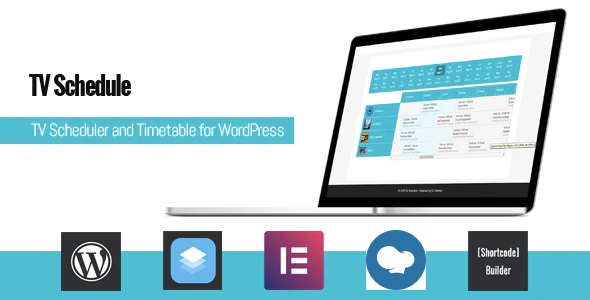 Latest Version 1.5.1 New update!

Please ask pre-sale questions if you not sure about the feature and to make sure the plugin will work as you want
Demo Account: demo Password: demo
Admin Dashboard:https://exthemes.net/tv-schedule/wp-admin
TV Schedule is a WordPress plugin that helps you create schedule of tv programmes or timetable and show it easily by date, by channels. By this TV Schedule plugin you can display all programmes schedule with many styles, layouts and anywhere via shortcodes.
Features list
6 Schedule Styles support
Repeat by weekly
TV Schedule with Simple schedule and Advance schedule
Ajax load programme by date, by channels
Unlimited TV Schedule Color. You can set main color for all styles
Programme support title, subtitle, content, image
Channel support
Global programme to allow create repeat programme quickly
Admin listing filter by channel or schedule date
Full content support: Collapse, Modal, tooltip
3 Simple schedule styles
3 Advance schedule styles
Fully responsive and mobile ready.
Unlimited TV Schedule anywhere.
Unlimited customize with font, color
Shortcode builder support
WPBakery support
Work with any page builders
Supper easy configuration
And more …
BENEFIT FROM FREQUENT UPDATES
We're constantly updating TV Schedule with new features and improvements to ensure that our plugin is at the top of its game so that you can be at the top of yours. If you have any feedback or suggestions, we'd love to hear from you.
LIKE OUR WORK?
Please rate us and help us spread the word! Support from our loyal customers means we can continue to improve our offering.
NEED SUPPORT OR HAVE A QUESTION?
Feel free to get in touch at any time. We offer free support to all our customers and are happy to help with any questions or issues you might have. We endeavor to get back to all queries within one business day.

Release log

---------------------------------------------------------------------------------------
Version 1.5.1  - 26/05/2022
---------------------------------------------------------------------------------------
- Add Start date for repeat 
- Show programme with end time on next day 
- Allow enable multi channels for Schedule with filter 
- Fix some minor bugs
---------------------------------------------------------------------------------------
Version 1.5  - 16/02/2022
---------------------------------------------------------------------------------------
- Improve performance 
- Add number of next for On Air shortcode 
- Add support html for Content of Programme 
- Fix js carousel conflict 
- Required end date of Repeat ( You need set end date of Repeat from this version ) 
- Fix some other minor bug
---------------------------------------------------------------------------------------
Version 1.4  - 06/08/2021
---------------------------------------------------------------------------------------
-  Add google calendar button 
---------------------------------------------------------------------------------------
Version 1.3  - 07/02/2021
---------------------------------------------------------------------------------------
-  Add min max time to show for Advanced shortcode 
- Fix some conflict code with some themes
---------------------------------------------------------------------------------------
Version 1.2
---------------------------------------------------------------------------------------
- Add Now/On Air shortcode 
---------------------------------------------------------------------------------------
Version 1.1.2 - 08/10/2020
---------------------------------------------------------------------------------------
- Add more time range to Advanced style 
- Fix order channel by custom order field 
- Fix some other minor bugs

---------------------------------------------------------------------------------------
Version 1.1.1 - 01/04/2020
---------------------------------------------------------------------------------------
- Fix repeat by week 
---------------------------------------------------------------------------------------
Version 1.1 - 01/04/2020
---------------------------------------------------------------------------------------
- Add repeat by week 
- Fix range time

---------------------------------------------------------------------------------------
Version 1.0.1 - 03/02/2020
---------------------------------------------------------------------------------------
- Add custom order channel by custom field 
- Add range time to advanced shortcode 
- Fix duplicate icon search 
- Fix conflict code with some themes.
---------------------------------------------------------------------------------------
Version 1.0 - 28/05/2019
---------------------------------------------------------------------------------------
- TV Schedule  First release