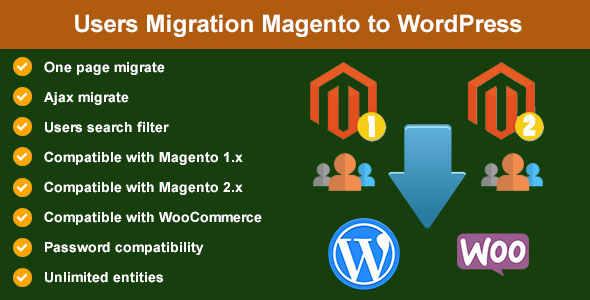 You have a Magento website with very many your customers, and you also have a WordPress website.
Frontend Demo (right click and open in new tab): here
You want copy/migrate your Magento customers to WordPress users, and of course you can not do it by hand because you have hundreds or thousands of users.
Come with "Users Migration Magento to WordPress", you just install, enter database connection, choose users and click migrate, we will done your work.
The information will be fully moved, including Woocommerce address if you are using it. The password will also be automatically compatible.
You can do migrate from Magento 1 and Magento 2.
Very easy to use, everything is done automatically.
Very fast and does not require any technical.
If you have any problems or questions, as well as if you want any customization, do not hesitate to contact me.
Version: 1.1 – Last updated: 2022, Apr 20
Compatible with WordPress 3.x, WordPress 4.x, WordPress 5.x, Magento 1.x, Magento 2.x, WooCommerce 3x, WooCommerce 4x, WooCommerce 5x, WooCommerce 6x
Browsers: IE8, IE9, IE10, IE11, Firefox, Safari, Opera, Chrome

Source