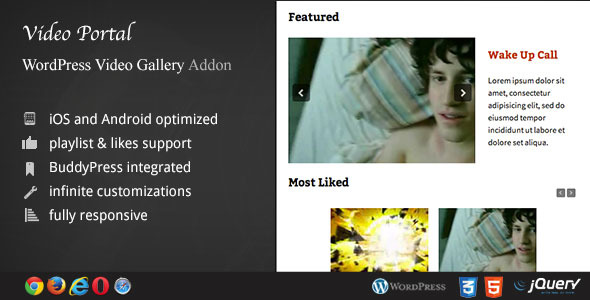 DZS Video Portal lets you convert your WordPress site to a video portal site like YouTube, Vimeo or 9gag.tv by offering Likes, Playlists, Upload and even an optional SignIn functionality.
easy install – purchase, download the zip, access your WordPress Admin Menu > Plugins > Add New > Upload zip and that's all!
synergy with the powerful DZS Video Gallery – this is a addon to the already powerful DZS Video Gallery, works in synergy with it
fully BuddyPress integrated – works in BuddyPress sites, even has features directly integrated in BuddyPress – like Playlists and Likes functionality
inherits theme's style – this plugin has custom styling only for custom components, for input text fields, headings, paragraphs, it will inherit the theme styling so it should look good on any theme
five skins + skin generator – we provided more then five skins to match any branding on your site, and more – you can generate your own skins with your own colors in the Design Center
iOS, Android, mobile ready – mobile ready
retina ready – only retina components used
facebook login – this plugin offers a optional login component with Facebook Login ( for ease of access to your users ). This is optional and can be integrated in your theme very easily
FAQ
I have already been using Video Gallery so I thought it could pull the videos from the existing video gallery. Do I need to create a different video gallery for the portal add-on?
The Video Portal is just a addone. Your existing Video Galleries do not change and can be added as normal.
My theme already has an integrated custom frontend login. How do people add video to the portal?
The login mechanism does not matter. Any wp user on your site can submit videos via the optional generated Upload page. Or via the WordPress Dashboard.
I use shortcode in post without add in gallery.
In order to track views, ratings, likes you need to create Video Items for getting these functionalities to work you can create YouTube video items too.
Updates
For updating, disable and delete the previous version, and install the new downloaded one. Or just unpack the zip you get from the download and overwrite the previous folder from wp-content/plugins/ via FTP ( recommended because this way you won't lose your generated waveforms )
UPDATE 2.04 [ 07/10/2018 ]
[FIX] star rating css and functionality
UPDATE 2.03 [ 05/10/2018 ]
[FIX] multiple fixes
[ADD] videos tab on user
UPDATE 2.00 [ 01/19/2017 ]
[FIX] remade upload screen / likes / playlists
UPDATE 1.10 [ 04/19/2014 ]
[FIX] bugs
[ADD] new category option on the Upload Page
Credits