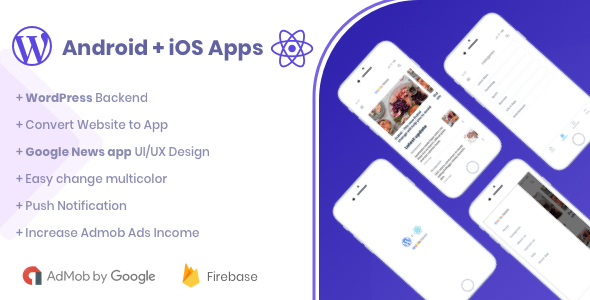 Webile News app is a react native app and working with WordPress backend. It has a nice user interface and user experience like Google News app.
You will get Android and iOS apps in this react native combo apps. We have used official WordPress Rest API for sync data between apps.
Why it's great?
Firebase Push Notification
Best UI/IX Design
Admob Ads
WordPress REST API
Google News UI
Clean & Minimal
Easy document
Demo App
WordPress website: https://www.itechnotion.in/webile-news
Documents
Support
Paid Installation & Customization
Don't know how to setup React Native Apps? don't worry, we'll do it for you. Installation and setup cost is just 100USD for both Android and iOS apps.
Credits
Poppings Fonts
WordPress Logo
React Native Logo
Google News Logo
Android Logo
Apple iOS Logo
Splash Images
TheNounIcons for Icons