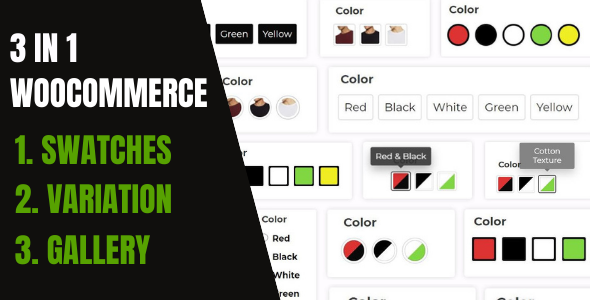 All In One – Additional Images, Variation Swatches, Gallery Customizer
InnovativeWP's Variation Swatches Plugin is a Complete 3 in 1 Solution for WooCommerce. We have included your every requirement into a single solution.
You can add a vertical-horizontal product gallery & Customize the gallery page designs. Also, You can add color, image, attributes, text, dropdowns, and button swatches to the product page, search page, and archives page. This plugin allows you more than 56+ customization settings for your store.
Functions Of WooCommerce Variation Swatches And Additional Gallery
3 in 1 Features:
Additional Gallery Images (Demo)
Variation Swatches (Demo)
Gallery Settings (Demo)
 
All Features Demo
 Change Prize Range On Variation Select (Demo)
 Gallery Images on my shop page (Demo)
Button Swatches (Demo)
Color Swatches (Demo)
Dual Color Swatches (Demo)
Image Swatches (Demo)
Quick View Support (Demo)
Dropdown Swatches (Demo)
  Vertical Gallery (Demo)
Horizontal Gallery (Demo)
Gallery Size (Demo)
 Gallery Sizes based on Devices (Demo)
Thumbnail Image Numbers (Demo)
Animated Preloaders (Demo)
 Auto-Playing Gallery (Demo)
Arrows On Gallery (Demo)
Zoom Images (Demo)
Zoom Button (Demo)
Image Popup Buttons (Demo)
Product Type Disabler (Demo)
Images on Archives (Demo)
Swatches Shape (Demo)
Automatic Dropdowns (Demo)
AJAX Variation Loader (Demo)
Out of stock disabler (Demo)
Stock Info (Demo)
Stock Info on Archives (Demo)
Attribute Name (Demo)
Animations For Not Available (Demo)
Swatches Dimensions (Demo)
Swatches Colors (Demo)
Transient Caching Control (Demo)
Swatches on Archives Page (Demo)
Add to Cart Button Customizers (Demo)
Swatches Alignment Everywhere (Demo)
Swatches Sizes (Demo)
Single Variation Visibility (Demo)
Single Variation Images (Demo)
Dropdowns Mixing (Demo)
Dropdowns on Archives (Demo)
Text Tooltips (Demo)
Image Tooltip (Demo)
Sharable Links (Demo)
Archives Pages (Demo)
Filters  (Demo)
Caching (Demo)
 Migration From Other Plugins (Demo)
 Global Settings VS Custom Settings  (Demo)
Compatibility  (Demo)
Tooltip Text Customizing (Demo)
  Import / Export Variation Swatches & Gallery Images (Demo)
Limiter (Demo)
Gallery Slider  (Demo)
Product Video (Youtube, Vimeo, Self Hosted) (Demo)
Hidden "Clear Variations Button" (Demo)
InnovativeWP's Support Stats For This Plugin
Successful Support Tickets – 39 Tickets
Currently Active Support Tickets – 2 Tickets
Completion Time – Minimum 5 Hours To Maximum 8 Days.
5 Start Reviewed – 10 Happy WooCommerce Owners
Technical Team Members – 5 Innovators
Plugin Roadmap:
AJAX loading of variations (Done)
Additional Images (Done)
Sharable Links (Done)
Tooltips for Images (Done)
Single Image Preview (Done)
Youtube Video (Done)
Vimeo Video (Done)
Self Hosted Videos (Done)
Vertical Gallery (Done)
Dropdowns + Updated Variations Format (Done)
License Verification (Done)
Zooming Images & Buttons (Done)
Quick View Support (Done)
Caching & Loading Speed (Done)
Compatibility with All Theme Builders & All Themes (Done)
Variations Import & Export (Done)
Gallery Slider (Done)
Hovering Animations (coming soon)
Image Height & Width For After Selected Variations (For some themes) (coming soon)
All Features Information:
InnovativeWP allows you to customize a complete WooCommerce product page. Convert WooCommerce Product Dropdowns into Designer Variation Swatches Within Single Click. With this plugin, you can,
Add Images separately for every variation.
Add designer Swatches for products
Customize the product gallery settings.
Device & Browser Compatible:
Mobile Devices: All the functions are compatible with mobile devices. Screen sizes of 480×800 are completely working with additional images, swatches, and all other features. It is compatible with other mobile devices' screen sizes also.
Tablet Devices: Tablet devices are also compatible with 1366×768 screen size. All the features are compatible with all devices in this screen size range. It is compatible with other tablet devices' screen sizes also.
Computer Devices:  All the features are compatible with every computer screen size for desktops, laptops, and all devices.
Browser Compatibility: IE11, Firefox, Safari, Opera, Chrome, Edge are completely compatible with this plugin. 
Extra Features For Different Screen Sizes: There is an exceptional feature in this plugin, That allows you to create different settings for different screen sizes. If you want gallery size for computer devices to be 300300 for mobile devices, 600600 for tabler devices, and 1200*1200 then this plugin allows you to do so.
Site Speed & SEO:
SEO: It does not interfere with site SEO. But it benefits the site's structure because of clear sharable links.
Site Speed: Plugin does not affect the site's loading speed. It comes with pre-minified CSS and JS. You can differ in JS parsing and transient cache within the plugin.
JS Loading: You can control script loading control as per your requirements to enhance the site speed issues.
CDN & optimizing: InnovativeWP's plugins are compatible with speed optimizing plugins like WP Rocket, Perfmatters, WP Fastest Cache, W3 Total Cache, WP-Optimize, Autoptimize & More. Also, it is compatible with CDN-based services.
InnovativeWP Services:
Customer Support: Get the best customer support for WordPress plugins from our experienced WP Developers.
Lifetime Updates: We offer lifetime updates on every plugin.
Forums: Separate customer forums are available for separate plugins.
InnovativeWP Plugins: We assure Code Quality & Customer Support.
FAQs
Q: Which Page Builders are compatible with this plugin?
A: It is compatible with the following builders:
Elementor Page Builder
DIVI Builder 
WPBakery Page Builder 
Visual Composer
Fusion Builder (Avada Theme Builder) 
Thrive Architect Page Builder 
Oxygen Builder
Brizy Builder
UX Builder – from Flatsome theme 
Cornerstone
Beaver Builder
Gutenberg
SiteOrigin Page Builder
Q: How to create designer swatches for WooCommerce products?
Q: Which languages are supported?
A: It is compatible with following languages:
English 
Italian 
Chinese 
Spanish 
French 
Arabic 
Russian 
Portuguese 
German 
Still you can translate this with WPML, Loco Translate or any other translating Plugins
Q: Can I use it on a non-WordPress site?
A: No, It is exclusively for WordPress currently.
Q: Does it work on variations that are already made?
A: Yes, It changes all the variations swatches automatically after activating the stylesheet.
Q: Is it supported?
A: Yes, our plugins are totally supported. You can check our customer services reviews from here
Click Here To Find All FAQs About Plugin
Suggestions for future updates?
We are constantly trying to develope and create better plugins for WordPress. If you want to add some features to our plugins or want some specific feature in plugin then you can submit your suggestion from here. Our team will try to incorporate that in our roadmap.
Have a pre sale questions?
If you are confused about any of the feature of the plugin or else, then you can ask questions to our team from here. Our team will get to you as soon as possible.
Changelog

== 4.0.3 ==
* Released: Sept 26, 2022
    >> Compatibility: Updated with WooCommerce 6.9
    >> Swatches builder improved

== 4.0.2 ==
* Released: July 18, 2022
    >> Compatibility: Updated with WooCommerce 6.7.0
    >> Plugin Structure Changed
    >> Plugin Dashboard Updated
    >> Swatches Builder Introduced 

== 4.0.1 ==
* Released: June 22, 2022
     >> Compatibility: Updated with WooCommerce 6.6.0

== 4.0 ==
* Released: May 17, 2022
    >> Compatibility: Updated with WooCommerce 6.5.1

== 3.9 ==
* Released: March 8, 2022
    >> Bug Resolved: Site speed issues resolved
    >> Feature removed: Image flipper

== 3.8 ==
* Released: February 12, 2022
    >> Compatible with wprocket.
== 3.7 ==
* Released: January 25, 2022
    >> Bug Resolved: Versions bug resolved

== 3.6 ==
* Released: January 25, 2022
    >> New Feature : Gallery on Archvies

== 3.5 ==
* Released: January 1, 2022
    >> New Feature : Price Changer

== 3.4 ==
* Released: December 24, 2021
    >> Compatibility updated for WooCommerce 6.0.0
    >> Product package addons updated
    >> Text strings updated

== 3.3 ==
* Released: November 25, 2021
    >> Compatibility updated for WooCommerce 5.8.0

== 3.2 ==
* Released: November 18, 2021
    >> Compatibility to updated Elementor

== 3.1 ==
* Released: September 10, 2021
    >> Minor bugs resolved

== 3.0 ==
* Released: July 15, 2021
    >> Big Update: Master Control Gallery

== 2.9 ==
* Released: July 12, 2021
    >> Removed all functions for additional images
    >> Prepared Code For Next Big Update.

== 2.8 ==
* Released: July 7, 2021
    >> Bug: Vertical Image Solved

== 2.7 ==
* Released: July 1, 2021
    >> Bugs solved related to Flatsome Theme.
    >> Compatibility Added for Visual Composer
    >> Compatibility Added for Woodmart Theme

== 2.6 ==
* Released: June 26, 2021
    >> Added New Features: Animations For Additional Gallery

== 2.5 ==
* Released: June 21, 2021
    >> Bug Solved
    >> Feature Added - Custom Image Preview on Archives
    >> Compatibility Updated - OceanWP

== 2.4 ==
* Released: June 15, 2021
    >> Minor Bugs Solved
    >> Functions Renamed

== 2.3 ==
* Released: June 9, 2021
    >> Feature Added - Single Variation Images
    >> Minor Bugs Solved
    >> Compatibility Updated - Elementor 

== 2.2 ==
* Released: June 5, 2021
    >> Bugs Fix - Additional Image Bug Fix

== 2.1 ==
* Released: May 27, 2021
    >> Feature Added -  Single click gallery variations feature
    >> Bugs solved -  Clear button bugs solved
    >> Compatibility -  Thrive and Oxygen builder

== 2.0.0 ==
* Released: May 11, 2021
    >> Theme Compatiblity - 2.0 Compatible With Every Themes

== 1.1.9 ==
* Released: May 8, 2021
    >> Fix - Swatches Loading Issues
    >> Tweak  - JS Bugs solved
    >> Update - Added Auto Update
        >> Features Worked
        1. Caching Feature Updated

== 1.1.8 ==
* Released: May 5, 2021
    >> Fix - Double Gallery Product Image Solved
    >> Update - Added Auto Update
        >> Features Worked
        1. Database Optimized
        2. Border Color New Feature

== 1.1.7 ==
* Released: May 3, 2021
    >> Update - Added Auto Update
        >> Features Worked
        1. Attribute Based Availablity Feature
        2. Hide And Show Swathes Based on Types

== 1.1.6 ==
* Released: May 1, 2021
    >> Theme Compatiblity - Added 7 More Themes

== 1.1.5 ==
* Released: April 29, 2021
    >> Fix - Device Responsive Size Issues Solved
    >> Device Responsive Animations
    >> Update - Added Auto Update
        >> Features Worked
        1. All Browser Compatiblity

== 1.1.4 ==
* Released: April 27, 2021
    >> Compatiblity - WordPress Multisite Functions

== 1.1.3 ==
* Released: April 25, 2021
        >> Features Worked
        1. WordPress Backend Layout Updated to More Easy Understanding Tables

== 1.1.2 ==
* Released: April 24, 2021
    >> Fix - Gallery Images Not Showing Error Solved

== 1.1.1 ==
* Released: April 23, 2021
    >> Tweak  - PHP & JS Bugs Solved

== 1.0.9 ==
* Released: April 21, 2021
    >> Theme Compatiblity - Added 25 More Themes

== 1.0.8 ==
* Released: April 19, 2021
    >> Plugin Compatiblity - Monster Checkout Compatible

== 1.0.7 ==
* Released: April 18, 2021
    >> Tweak  - PHP Bugs Solved

== 1.0.6 ==
* Released: April 16, 2021
    >> Fix - WooCommerce Product Page Issue Solved
    >> Fix - WooCommerce Archices Issue Solved
    >> Fix - Search Result Issue Solved

== 1.0.5 ==
* Released: April 15, 2021
    >> Theme Compatiblity - Issue Solved

== 1.0.4 ==
* Released: April 13, 2021
    >> Fix - Thumbnail Issue
    >> Tweak  - Bugs Solved
    >> Theme Compatiblity - Added 2 More Themes
    >> Sharable Links Format
    >> Update - Added Auto Update
        >> Features Worked
        1. Auto Update

== 1.0.3 ==
* Released: March 31, 2021
    >> Fix - Additional Images Showing Multiple Error Solved
    >> Tweak  - Plugin header modified
    >> Theme Compatiblity - Added 3 More Themes
    >> Mobile/Tablet Responsive
    >> Update - Added Tooltip for swatches
        >> Features Worked
        1. Mobile Compatiblity
        2. Tablet Responsive
        3. Language Changable
        4. Backend CSS/HTML reduced
        5. Secured Caching

== 1.0.2 ==
* Released: March 15, 2021
    >> Fix - WooCommerce product loop - show variation default attribute
    >> Theme Compatiblity - Added 2 More Themes
        >> Features Worked
        1. Multiple Images 
        2. Gradient Color
        3. Border Width Height Changer
        4. Import Export Compatible

== 1.0.1 ==
* Released: March 1, 2021
    >> Fix   - Added seperate JS listeners for Image attribute type in admin edit term and single prodcut page
    >> Theme Compatiblity - Added 5 More Themes
    >> Tweak - Decreased CSS
        >> Features Worked
        1. Multiple Color Swatches
        2. Private Swatches For Products
        3. Sharing Links
        4. Stock Notices
        5. Swatches Dimensions Changer

== 1.0.0 ==
* Released: Feb 22, 2021
    >> Initial release