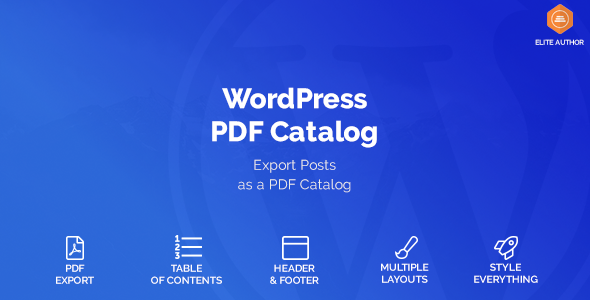 Turn your WordPress Blog into a PDF-Catalog
We assume you are a story teller or have created many articles. What if you could generate a PDF of all your stories, that your readers could read offline or print out on the fly? Well with this plugin they can – or you can if you limit the access.
PDF Catalog Demos
This Demos have been created using only the plugin. No manual work!
WP Post PDF Features

More than 30 possible layouts
5 Category Layouts
7 Posts Layouts
Full PDF Catalog of all your Posts
Category PDF Catalog only of current Category
Add a Table of Contents for every Post
Add a QR-Code of your Posts
Add extra texts before OR after your Posts
Add some special advanced settings
Show Subcategories
Exclude parent Posts when showing subcategories
Choose a container Padding
Choose a position of the Links
Create a custom header (1/2 or 1/2 + 1/2 or 1/3 + 1/3 + 1/3)
Create a custom footer (1/2 or 1/2 + 1/2 or 1/3 + 1/3 + 1/3)
Add background color
Choose Custom Fonts
Choose text size
Choose line height
Choose text alignment
Choose image size
Choose vertical aligment
Show or Hide Elements (Image, Title, Excerpt, Description, Categories, Tags, QR-Code)
Shortcode-Support [wp_pdf_catalog text="text" category="full OR Category-ID"]
Page numbers
Well Documentented
Tested
Tested with WordPress 3.8+
Compatibility
WordPress 3.8.1+
PHP 5.6+
Multilingual Support
Changelog

======
1.0.8
=====
- NEW:    Better support for custom post types
        taxonomies will now be set automatically when argument missing
        Example: https://demos.welaunch.io/wordpress-pdf-catalog/?wp-pdf-catalog=52&wp-pdf-catalog-post-type=featured_item
- NEW:    Added option to show post date
- FIX:    Issue with alignment
- FIX:    Post type not showing

======
1.0.7
=====
- NEW:    Option to limit max posts count
        

View post on imgur.com


- NEW:    Dropped Redux Framework support and added our own framework 
        Read more here: https://www.welaunch.io/en/2021/01/switching-from-redux-to-our-own-framework
        This ensure auto updates & removes all gutenberg stuff
        You can delete Redux (if not used somewhere else) afterwards
        https://www.welaunch.io/updates/welaunch-framework.zip
        

View post on imgur.com



======
1.0.6
=====
- NEW:    Added an option for MPDF debug mode in advanced settings
- FIX:    Shortcode fallback to post type

======
1.0.5
=====
- NEW:    Support for custom post types
        Use shortcode without any paramters:
        [wordpress_pdf_catalog]
        Or with:
        [wordpress_pdf_catalog category="MY_TERM_ID" taxonomy="MY_CUSTOM_TAXONOMY" text="Download Posts as PDF"]
        Example: https://demos.welaunch.io/wordpress-pdf-catalog/staff-category/staff/?wp-pdf-catalog=51&wp-pdf-catalog-post-type=&wp-pdf-catalog-taxonomy=staff_category
- NEW:    Option to hide category descripption
- NEW:    Default shortcode category is no longer "full" 

======
1.0.4
=====
- NEW:  8th Template (title no in image)
- FIX:  PHP notices
- FIX:  Buttons showed in backend (not working)

======
1.0.3
======
- NEW:  MPDF upgrade to V8
- NEW:  PHP 7.4 Support

======
1.0.2
======
- NEW:    Split Chunks Option in advanced settings
- FIX:    Shortcode generated wrong URL
- FIX:    Countable notice

======
1.0.1
======
!!!!!!!!!!!!!!!!!!!!!!!!!!!!!!!!!!!!!!!!!!!!!!!!!!!!!!!!
!!!! MPDF 7 requires at least PHP 5.6                 !!!!
!!!! Do NOT update if you are on a lower Version     !!!!
!!!!!!!!!!!!!!!!!!!!!!!!!!!!!!!!!!!!!!!!!!!!!!!!!!!!!!!!
- NEW:  PHP 7.2. Support
- NEW:  Moved MPDF to vendor folder for composer support
- NEW:  Option to enable MPDF Debugging (images, fonts)
- FIX:  Upgraded MPDF Rendering Engine to Version 7.0.3

======
1.0.0
======
- Inital release

# Future features
=====
- None