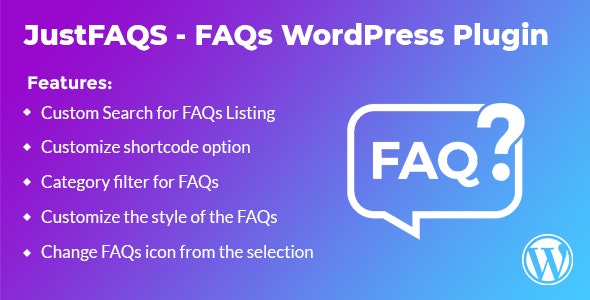 Just FAQs is a WordPress plugin that comes up with the features to enable Frequently Asked Questions Module on your site to keep engaged customers/users.
What is the purpose of FAQs?
When you go for shopping and when you didn't the answer to your questions related to a selected product, what's your view?
90% will surely dump that selection and go to another shop where he/she get a proper answer to the question from the salesperson.
Same things happen on eCommerce site too. FAQs will play the role of SalesPerson on an eCommerce store.
If you do not provide frequently asked question on your product, people will ignore those products and visit other sites to find the descriptive info for that specific product.
This plugin will help to make your store/site most user friendly with the FAQs option provided by the admin.
This plugin will allow to create shortcode and change the color scheme too.
With the help of this plugin you will customize shortcode based on category and change the style from the given option like Accordion or List.
Plugin Features:
Create WordPress FAQs to display anywhere using the shortcode.
Create Category to assign to the FAQs
Shortcode Customization with multiple attributes.
Search Module to search among the FAQs
Option to limit the FAQs per page and Pagination
Reduce customer service work by adding FAQs day by day
Option to show category filter to easily search FAQs from the respective category
Link Copy Option to share the specific FAQs with the User or Client
Easy ON/OFF button to disable or enable FAQs
Easy Drag and Re-Order option to display FAQs as per your convenient
Option to change the color combination for the Buttons, Pagination
Added a option in TinyMCE editor to use the FAQs shortcode everywhere throughout the site.
Website: https://www.perceptionsystem.com/wordpress-development-company.html

Source